In this time of darkness, let us all join in congratulating and praying for Mark Harris upon his Ordination to the Transitional Diaconate April 15, 2020, at Pope St. John XXIII National Seminary in Weston, Mass.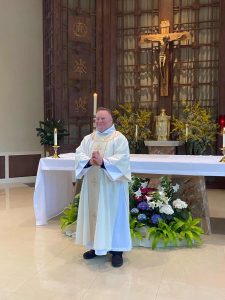 Deacon Harris, a seminarian for the Diocese of Venice, was one of three to be ordained by Auxiliary Bishop Robert F. Hennessey of the Archdiocese of Boston. The ordination was rescheduled and moved to the seminary chapel due to the ongoing pandemic.
During the ordination, the new deacons promised to live a life of prayer, celibacy and obedience to their Diocesan Bishop.
Bishop Hennessey thanked the families, all watching online because of the pandemic restrictions, for giving the men to the Church. "You now have the right to recognize them as the one who came to serve"
To the candidates, the Bishop said, "We are watching you by the way you live your life and are recognizing you as a Disciple of Jesus Christ. Embrace the celibate life, the life of charity and the life to serve at the altar… It was the breadth of grace, an undeserved and unexpected gift, that brought you to this place and time and only you and God know the sacrifices made."
As part of the ordination, Bishop Hennessey first placed his hands over their head and prayed. Then the men put on their stole and chasuble. Next, each came forward to kneel before the Bishop, at which time the Book of Gospels was placed in the hands of each candidate being ordained and the Bishop said: "Receive the Gospels of Christ, whose herald you have become. Believe what you read, teach what you believe, and practice what you teach."
During the Mass, Deacon Harris served as Deacon of the Altar, assisting with the preparation of the gifts.
Born in Miami, Deacon Harris spent part of his childhood alternating between living in Florida and Connecticut.  He earned degrees in Commercial Art and then Business Marketing and Management from Florida Metropolitan University, before earning a Master's in Education from Sacred Heart University in Fairfield, Conn.
Now 53, Deacon Harris worked at various marketing and corporate jobs before becoming an elementary school teacher for Charlotte County School District. At Sacred Heart Parish in Punta Gorda he served as Eucharistic minister and catechist, helping with the Youth Peer Ministry, Faith Formation Program and Core Adult Ministry Team.
Now carrying the new title of Deacon, this last phase of his formation before being called to priesthood, Deacon Harris, can baptize, witness marriages, perform funerals and burial services, distribute the Eucharist and preach the homily. Deacon Harris will have an additional year of theological studies and spiritual formation before petitioning for Ordination to the Priesthood in 2021.