For three days each summer there is a gathering of men of different ages and backgrounds each dedicated to a common goal – continuing their spiritual journey with a focus on becoming a Diocesan priest.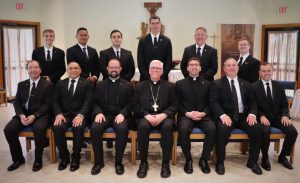 Some are in a seminary college formation program, while others are in advanced programs and nearing the end of their journey, with potential Ordination to the Priesthood not too far off.
During the annual Diocese of Venice Seminarian Convocation at Our Lady of Perpetual Help Retreat Center in Venice (July 25-28, 2022), the men spent time praying, reflecting on their choice of vocation while also sharing their thoughts and their personal journey with others who are on the same path.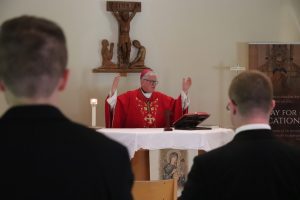 Bishop Frank J. Dewane celebrated a Mass for the seminarians on July 25, the Feast of St. James the Apostle. The Bishop encouraged the men to take the time during the Convocation to continue to hear the Call to Holiness and reflect Christ in the life they live.
Just as St. James and the other Apostles struggled to follow Jesus Christ, the seminarians are also "called to be the model of the suffering servant," Bishop Dewane said. "Know that is what the Lord asks of you. You must go about accepting that role; asking for clarification from the Lord when it is needed as you discern that response of His Call to Holiness."
In answering this Call to Holiness, the Bishop explained that this will not always bring them friends or be easy as they stumble, feeling they have failed the Lord along the way. "This is what makes us each human – our failings, our struggles – but the Lord will always be there to pick us up and help us on this journey."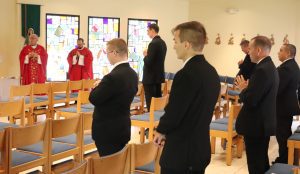 "Following the Call to Holiness through the coming year will build you up and make you a stronger man of God as you reflect Jesus Christ," the Bishop concluded. "Continue to listen as the Lord brings you along that journey that He has prepared for you. May each of you be blessed this year to hold before yourselves that Call to Holiness and to live it each day."
Following the Mass, Bishop Dewane shared a meal with the group.
Seminarian Andres Cordero, who spent the summer at a pastoral assignment at Incarnation Parish in Sarasota, said that the camaraderie with his fellow seminarians reinforces his response to the Lord in his life. "The discernment process is an opportunity to grow closer to Christ, while serving the Lord in unique ways."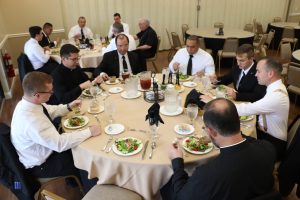 The multi-day retreat occurs late in the summer as a time of prayer and reflection before each man returns to his respective seminary. During the week the seminarians were led by Father Shawn Roser, Diocese Vocations Director, with additional presentations by Father Mark Yavarone, Oblate of the Virgin Mary, Director of Spirituality at the retreat center, and Jesuit Father John Belmonte, Diocese of Venice Superintendent of Catholic Education.
With the group assigned to four different seminaries, the Convocation is an opportunity for those early in their formation process to hear from those who are further along. This mentoring aids in building a bond amongst the group and helps everyone appreciate that the discernment process is not only accomplished in the classroom but through the entire experience in seminary, during Parish pastoral assignments, and in their personal life.
A recent highlight for the group was witnessing the July 16 Ordination to the Priesthood of Fathers Christian Chami, David Portorreal and Michael Young. During the Convocation, the new priests stopped by to speak to the group, offering words of encouragement and inspiration.
Diocese of Venice Seminarians are supported through the Diocese Catholic Faith Appeal, the Knights of Columbus, Venice Diocesan Council of Catholic Women and the generosity of the faithful.
Parishioners from around the Diocese are encouraged to help support the seminarians in their studies and choice of vocation through prayer and financial assistance. Donations can be made by visiting https://dioceseofvenice.org/ways-to-give/ or sent to: Diocese of Venice, Office of Vocations, 1000 Pinebrook Road, Venice, FL 34285.
For more information about the seminarians or Vocations, contact Father Shawn Roser at roser@dioceseofvenice.org or 941-486-4720, or visit www.venicevocations.com.
List of Diocese of Venice Seminarians
Transitional Deacon Jose Grullon, St. Vincent de Paul Regional Seminary, Boynton Beach;
Transitional Deacon Alan Baldarelli, St. Vincent de Paul Regional Seminary;
Juan Contreras, St. Vincent de Paul Regional Seminary;
Andres Cordero, St. John Vianney College Seminary, Miami;
Michael Courville – St. Vincent de Paul Regional Seminary;
Joseph Doherty, Pontifical North American College Seminary, Rome, Italy;
Carlos Galeso, St. John Vianney College Seminary;
Thomas Gregory (Greg) Dougherty, Pope St. John XXIII National Seminary, Weston, Massachusetts;
James Gates, St. John Vianney College Seminary;
Jacob Gwynn, St. Vincent de Paul Regional Seminary (pastoral year);
William Patrick (Pat) Long, Pope St. John XXIII National Seminary;
Alejandro Giraldo Roldan, St. Vincent de Paul Regional Seminary;
Daniel Scanlan, Pontifical North American College Seminary.