The faithful of Holy Child (Divino Nino) Mission in Bowling Green celebrated their 43rd anniversary on July 24, 2022, with a procession, Mass and fiesta.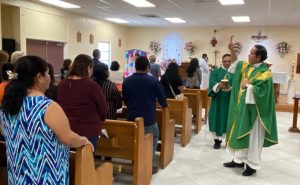 This annual observance took on a special meaning this year with the recent completion of extensive repairs and remodeling of the church. This work included a new roof, replacing the flooring, pews, and creating additional space for a cry room and other upgraded touches. The welcoming worship space is befitting of this close-knit Hispanic Catholic community.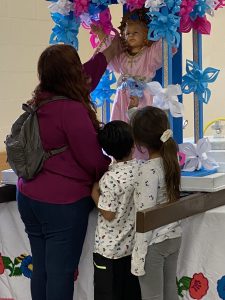 Father Oscar Mendoza, who is Administrator of the Mission and nearby St. Michael Parish in Wauchula, opened the Mass with a blessing of the new worship space.
The work was much needed and results were beautiful, Father Mendoza said, later reflecting upon how the community came together to collect the funds and volunteered to do some of the work to complete the renovations.
Father Mendoza thanked Bishop Frank J. Dewane for his support and guidance during the project, without whom the project would never have been completed.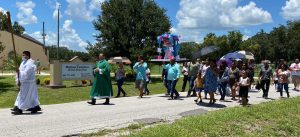 Before the Mass, Deacon Ramiro Hernandez led the faithful in a procession with a statue of the Holy Child Jesus, which included the faithful singing praise to Jesus Christ.
Holy Child Mission was dedicated in 1979 and an annual celebration marks the anniversary. As in years past, a fiesta of rich foods followed.
Deacon Hernandez said the completion of the work on the Mission church was important for the local community, which is comprised of many families with connections to the farming and mining industries.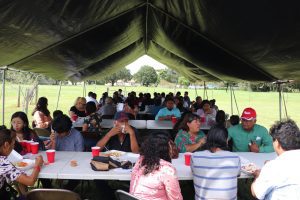 "There is a strong personal connection for the faithful to this Mission," the Deacon explained. "To have the work of the community come together, through donations and physical labor is particularly rewarding for everyone. It reminds everyone of the time when this was how churches were built and supported, by the community and for the community."