The people of Boca Grande on Gasparilla Island are no stranger to hurricanes, so when Hurricane Ian approached, they prepared and prayed for the best.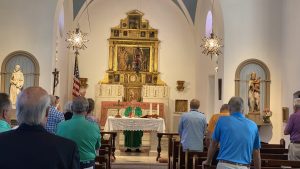 Father Jerome Carosella, Pastor of Our Lady of Mercy Parish in Boca Grande, stayed at the rectory during Hurricane Charley in 2004 and thought about staying this time until a deputy Sheriff told him to leave. So, Father Carosella put the storm shutters in place and took the Blessed Sacrament, the consecrated Communion hosts, to St. Francis of Assisi Parish in Grove City for safekeeping. Then he went to stay with parishioner-friends in South Gulf Cove.
He returned to Boca Grande on Sept. 30, 2022, two days after the storm struck, having to wait until the waters on the island receded enough to allow passage of trucks.
Unsure what he would find, Father was saddened to see widespread damage on the island but was relieved the church made it through Ian okay.
"Not too bad," Father Carosella said, recalling that day. "Lots of roof damage and some water, but we were blessed."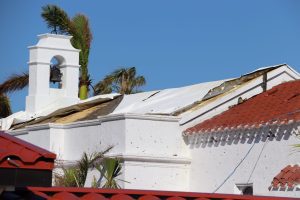 The interior of the small church, built in 1950, is reminiscent of Spanish missions erected in the 17th Century with interior artwork dating to as early as the 15th Century. Nothing inside suffered irreparable damage, even though half of the roof was peeled back. Fortunately, part of the old roof, which was damaged during Hurricane Charley, was left on the building, and provided enough protection to avoid catastrophe. The howling winds of the storm forced water around the old wood doors at the front and rear of the church, but the damage was limited.
The hurricane winds of Ian did shred part of the rectory roof, along with three storm shutters, and water poured into three rooms there. In addition, a section of the roof of the Boca Grande Pre-School, operated by Catholic Charities, Diocese of Venice, Inc., had similar roof and water intrusion, while the newly built Parish Hall had only superficial damage.
Father Carosella said friends and strangers were quick to assist in cleaning up the property, putting temporary tarps on the damaged roofs, mitigating against further damage from the water intrusion.
"It's hard work, but it has had a good benefit; I've lost 7 pounds," Father Carosella said.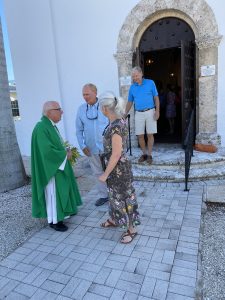 Father has celebrated Mass every day since Sept. 30, and the congregation has slowly increased from two the first day to several dozen by Oct. 16 as access to the barrier island improved and coincided with the restoration of power and water on Oct. 11.
A wedding, scheduled for Oct. 15, was relocated to a "distant second-option," St. Patrick's Cathedral in New York City. "She was baptized here 30 years ago, and it would have been beautiful. I guess the back-up had to do in a pinch."
Carol and Laurence Hall, who have been on Boca Grande for 60 years, had damage to their home, but nothing that cannot be fixed. When the couple returned to the town after evacuating, Carol Hall said Our Lady of Mercy "was one of the first things we checked up on. Not too bad. So blessed that it wasn't worse, and we were able to be here for Mass this morning."
Father Carosella knows the Parish was fortunate as no storm surge inundated the island. Others had severe damage with some losing homes. Within a block of Our Lady of Mercy, a cellular tower collapsed and cut a bakery in half, while a Baptist church had its roof, steeple and a wall blown out, and nearly every home in view had tarps or other obvious damage.
Father credits the lack of damage from Ian to the repairs done after Hurricane Charley and pointed out two olive trees which were trimmed way back not long before the storm.
"Who knows where they would have ended up or what damage that huge tree would have done. Unfortunately, we did lose the best mango tree on the island; it and its two companions are no more."
While sorry to see the damage, Father Carosella pointed out that the leaves on the hibiscus were coming back fast, a sign that eventually, everything will come back, and the island paradise will be restored again.