Bishop celebrates Mass in two hardest hit areas
Just three weeks after Hurricane Ian left destruction in its wake on Sept. 28, 2022, students at all 15 Diocese of Venice Catholic schools had returned to the classroom.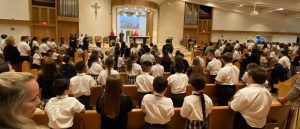 The coordination necessary to get each school opened in a safe and timely manner was the work of countless staff and volunteers who banded together, focused on a singular goal. The final four schools to reopen were in the hardest hit areas of Lee and Charlotte County – St. Charles Borromeo Catholic School in Port Charlotte, St. Andrew Catholic School in Cape Coral, and St. Francis Xavier Catholic School and Bishop Verot Catholic High School, both in Fort Myers.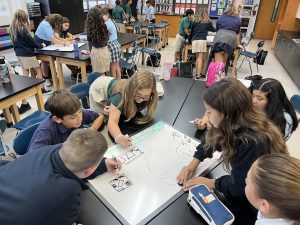 Bishop Frank J. Dewane and Father John Belmonte, SJ, Diocesan Superintendent of Catholic Education, both complimented the outstanding work of the schools' faculty and staff to get the schools open. While many schools had damage, some of the delays included a lack of electricity or drinkable water, as well as allowing time for families in some areas time to recover from the destruction of their homes. Another factor caused by the storm was the issue of space. Diocesan enrollment is at an all-time high at many schools, meaning where there was damage, a reimagining of the use of remaining space was necessary. With the first phase of hurricane recovery completed, all schools were open by Oct. 18.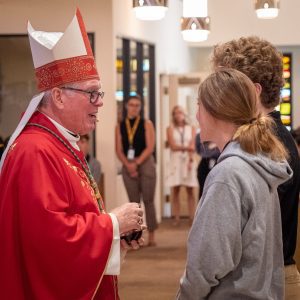 At Bishop Verot Catholic High School, where awnings were torn away, portable classrooms damaged and bleachers twisted like pretzels, the return to school on Oct. 17 was met with joy and sorrow as many students and faculty had severe damage to homes, some losing everything to Ian's wrath.
On the first day back, Bishop Dewane celebrated Mass for the school. The Bishop acknowledged everyone had been suffering through a difficult time in some way or another. This suffering varied greatly from destroyed homes or the total disruption of lives as whole neighborhoods and businesses became unrecognizable while there was an ongoing struggle to attain the basic necessities of food, power and drinkable water.
"We need to keep them in our prayers," Bishop Dewane said. "To lift up these individuals to the Lord; so that He place His healing hands upon them."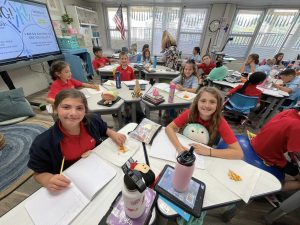 The Bishop called upon the Holy Spirit to enter into the people of Bishop Verot, particularly those who suffered the most from the hurricane. "Let us be united with them in the difficulty they face."
Mass was also celebrated by Bishop Dewane on Oct. 19 for St. Charles Borromeo Catholic School in Port Charlotte, the day after their return to the classroom. The school had some roof and fencing damage, but the region had extreme impacts. Again, the Bishop spoke about the impacts of Hurricane Ian, stressing that the tragedy and difficulty many have faced is something that we can recover from and must not let it deter one's faith and trust in God.
Schools helping schools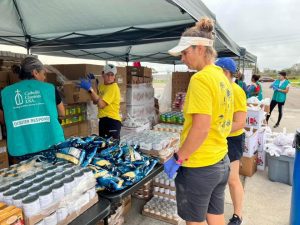 As impressive as it has been to get the schools back open so quickly, Bishop Dewane and Father Belmonte have also said the schools are reflecting their Christian core by their continued outreach into the community, helping not only their own school communities but others who have been in need.
Teams from nearly every Catholic school in Collier, Lee, Charlotte and Sarasota counties have helped families clear out debris from wrecked homes. Others have brought emergency supplies into neighborhoods.
Bishop Verot served as a temporary clearing house for getting donated emergency supplies to impacted families for the three Catholic schools in Lee County. More than two dozen faculty and staff lost homes, and more than 150 student families had similar destruction; so, the need was great. Donations from other Diocesan Catholic schools, as well as from Catholic schools from across Florida and beyond have flowed into the region. Since some families lost the entire contents of homes, the donations did not go to waste and were much appreciated.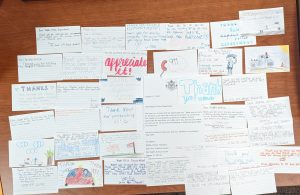 Students from St. Ann Catholic School in Naples have been very busy. First, they held a food and emergency relief drive, which was combined with an effort by St. John the Evangelist Parish to benefit the St. Vincent de Paul Society Naples food pantry. The school then collected thousands in gift cards to give to needy families. Finally, the students sent handmade "Thank You" notes to local first responders, including the Naples Police Department, in gratitude for their work in protecting the community during and after the hurricane.
The girls' basketball team from Cardinal Mooney Catholic High School in Sarasota took advantage of a day off to do service work at St. Michael Parish in Wauchula on Oct. 14. The players organized the food pantry and cleaned the property of debris. They are making a difference on, and off, the court!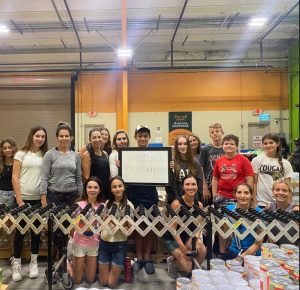 Student and parents from St. Martha Catholic School in Sarasota used a day off from school on Oct. 17 to volunteer at All Faiths Food Bank, the regional supplier for food pantries in Sarasota and DeSoto counties.  The volunteers filled 160 boxes of food and 1,500 backpacks for local families and students.
At St. Joseph Catholic School in Bradenton, where the storm impacts were relatively less severe, Oct. 14, a day usually used for training for teachers, turned into an opportunity to volunteer at St. Paul Parish in Arcadia. The community was hard hit by the hurricane with severe wind damage and later river flooding. The faculty and staff volunteered at a Catholic Charities, Diocese of Venice, Inc. Disaster Response Distribution site helping to load vehicles with disaster relief.
These are just a few examples of the ongoing outreach and service being done by Diocesan Catholic schools in the wake of Hurricane Ian.