The following is a statement from Most Rev. Frank J. Dewane, Bishop of the Diocese of Venice in Florida, regarding the May 24, 2022, school shooting in Texas.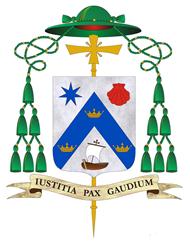 "Please join me and the entire Diocese of Venice in prayer as we mourn the loss of life in yesterday's school shooting at Robb Elementary School in Uvalde, Texas. This tragic loss of so many innocent children and their teachers is truly heartbreaking. Through the intercession of Our Lady of Mercy may God in his infinite mercy pour out his grace to strengthen those who grieve, to heal the wounded, and bring peace to all.
I want to reassure everyone that the safety of schools is our top priority. Each school has a safety plan and procedures that foster a safe learning environment for students and teachers. These plans are regularly reviewed by school leaders who implement best practices as we maintain safe and secure schools. Our schools work closely with local law enforcement to keep our students and teachers safe every day.
As we conclude this school year, we draw strength from our faith in God and entrust the people of Uvalde to His love and mercy. Let us be united in prayer that "the peace of God that surpasses all understanding will guard your hearts and minds in Christ Jesus." (Phil 4:7)"