Listening sessions for the Diocesan Phase for the XVI Ordinary General Assembly of Bishops, "For a Synodal Church: Communion, Participation, and Mission," have been scheduled and registration is open.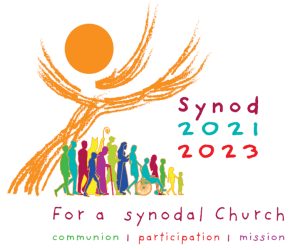 All are invited for an evening listening session about the Catholic Church and your relationship with it. All sessions will take place from 6:30 p.m. to 8 p.m. To allow the greatest number of people the chance to participate, please select a single most convenient location/date. Register here at https://dioceseofvenice.regfox.com/2022-synod-listening-sessions.
The Listening Sessions are as follows:
Wednesday, February 9, St. Thomas More Parish, 2506 Gulf Gate Drive, Sarasota (Eng.);
Wednesday, February 16, Epiphany Cathedral, 350 Tampa Ave. W. Venice (Eng..Sp.);
Tuesday, February 22, Ss. Peter and Paul the Apostles Parish, 2850 75th St. W., Bradenton (Eng./Sp.);
Thursday, March 3, St. Andrew Parish, 2628 Del Prado Blvd., Cape Coral (Eng./Sp.);
Monday, March 14, St. John XXIII Parish, 13060 Palomino Lane, Fort Myers (Eng.);
Wednesday, March 16, Sacred Heart Parish, 211 W. Charlotte Ave., Punta Gorda (Eng.);
Thursday, March 24; St. Elizabeth Seton Parish, 5225 Golden Gate Parkway, Naples (Eng./Sp.);
Monday, March 28, St. John the Evangelist Parish, 625 111th Ave. N., Naples (Eng.);
Monday, May 9, St. Catherine Parish, 820 Hickory St., Sebring (Eng./Sp);
Monday, May 16, St. Agnes Parish, 7775 Vanderbilt Beach Road, Naples (Eng.);
Monday, May 23, Our Lady Queen of Heaven Parish, 355 S. Bridge St., LaBelle (Eng./Sp).
The Synod on Synodality, initiated by Pope Francis in October 2021, is a two-year, worldwide undertaking during which Catholics will be encouraged to submit feedback to their local Dioceses, primarily this will be gathered as listening sessions.
A Synod is a meeting of Bishops gathered to discuss a topic of theological or pastoral significance, in order to prepare a document of advice or counsel to the Pope. The Holy Father wants us to join him in praying, listening, discerning, examining ourselves personally, and the Church communally, to see if we're truly on the path Jesus has set for His beloved bride, His mystical body, the Church.
Synodality, as defined by the International Theological Commission in 2018, is "the action of the Spirit in the communion of the Body of Christ and in the missionary journey of the People of God." The term is generally understood to represent a process of discernment, with the aid of the Holy Spirit, involving Bishops, priests, religious, and lay Catholics, each according to the gifts and charisms of their vocation.
The Diocesan Phase of the Synod has the goal of ensuring the participation of the greatest number possible, in order to listen to the living voice of the entire People of God. It is intended that the Diocesan Phase collect the fruits and honest feedback of participants from the local synodal experience, rather than transmitting generic summaries. For this reason, each listening session will be recorded.
This Synod poses the following fundamental question: A synodal Church, in announcing the Gospel, "journeys together." How is this "journeying together" happening today in your local Church? What steps does the Spirit invite us to take in order to grow in our "journeying together" (Preparatory Document, 26)?
To help the faithful explore this fundamental question more fully, the following themes highlight significant aspects of "lived synodality" (Preparatory Document, 30). In responding to these questions, it is helpful to remember that "journeying together" occurs in two deeply interconnected ways. First, we journey together with one another as the People of God. Next, we journey together as the People of God with the entire human family. These two perspectives enrich one another and are helpful for our common discernment towards deeper communion and more fruitful mission.
There are 10 themes that are to be explored by the Synodal process:
Companions on the Journey – In the Church and in society, we are side by side on the same road.
Listening – Listening is the first step, but it requires having an open mind and heart, without prejudice.
Speaking Out – All are invited to speak with courage and parrhesia (openness), that is, integrating freedom, truth, and charity.
Celebration – "Journeying together" is only possible if it is based on communal listening to the Word and the celebration of the Eucharist.
Sharing Responsibility for our Common Mission – Synodality is at the service of the mission of the Church, in which all members are called to participate.
Dialogue in Church and Society – Dialogue is a path of perseverance that also includes silences and sufferings, but which is capable of gathering the experience of persons and peoples.
Ecumenism – The dialogue between Christians of different confessions, united by one baptism, has a special place in the synodal journey.
Authority and Participation – A synodal Church is a participatory and co-responsible Church.
Discerning and Deciding – In a synodal style, decisions are made through discernment, based on a consensus that flows from the common obedience to the Spirit.
Forming Ourselves in Synodality – The spirituality of journeying together is called to become an educational principle for the formation of the human person and of the Christian, of the families, and of the communities.
To assist with planning of the listening session, kindly confirm your attendance by registering at https://dioceseofvenice.regfox.com/2022-synod-listening-sessions.
For questions regarding the listening sessions, please email synod@dioceseofvenice.org. Please visit www.dioceseofvenice.org for more information about the Synod and links to key documents.