John Carkeet – Special to the Florida Catholic
Our present cultural context poses serious challenges for young people – the speed of change, technological advances, and the withering numbers of choices, just to name a few.  Those challenges notwithstanding, the sources of meaning and happiness for people remain the same: family and faith. Parents want their children to grow up to be happy, responsible, successful adults. So where does one find places where we have faith fostered, self-confidence created, good decisions supported, enduring values promoted, good habits nurtured, virtues revered, emotional and physical health safeguarded, and academic achievement and hard work prized? Catholic schools! We need them now more than ever. There are, of course, many alternatives to Catholic schools. There is no substitute.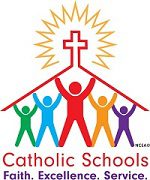 Families from all walks of life have recognized the benefits of a Catholic education, particularly those institutions in Southwest Florida. From August 2020 to January of this year, Catholic School enrollment across the Diocese of Venice increased by more than 700 students, over 14 percent. The surge of new residents across Florida certainly helped this remarkable growth. However, why have hundreds of families decided to enroll their children in Catholic schools rather than one of the public or private school counterparts?
Two acronyms may shed light on the answer. The Diocese of Venice's STREAM (Science, Technology, Engineering, Religion, Arts, and Mathematics) initiatives have played a key role in delivering an innovative curriculum that parents understand is important for their children. Through partnerships with educational technology leaders Apple, Lego, Google, and Archangel Tablets, every school in the diocese has enhanced its ability to deliver a faith-filled education supported by cutting edge tools that encourage students to create, explore and collaborate. The Diocese has further reinforced this $300,000 investment in technology by creating a comprehensive professional development program for teachers and administrators. On March 21, 2022, the Diocese will host the first-ever STREAM Symposium.  More than 500 teachers, principals, industry leaders and community partners will converge at Bishop Verot Catholic High School in Ft. Myers to learn new skills, share best practices, and showcase the latest in technology.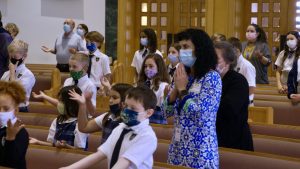 CSW – Catholic Schools Week – provides a second key to the Diocese's successes in enrollment and beyond. This year marks the 48th year nationally celebrating Catholic education. From January 30 through February 5, schools will celebrate their Parishes, our nation, vocations, our families and our teachers. Schools organize activities and public events to provide an opportunity to see the positive benefits of a Catholic education.  Interested in attending one of these events?  Visit https://dioceseofvenice.org/find-a-school/. Then contact the school(s) of your choice for the latest updates.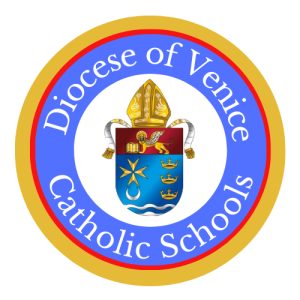 Every Catholic Schools Week is an opportunity to recognize the value and contributions of Catholic education to the Church and the world.  It also allows the Diocese of Venice Catholic schools to express their gratitude to the generous parishioners who make Catholic education affordable to those most in need. This support ensures that our schools will remain dedicated to producing the Christ-like leaders the Church and world needs.
While there is a cost to a Catholic education, each Diocesan school offers a variety of scholarships and financial aid opportunities. In addition, the Florida Legislature expanded the Step Up for Students program in 2021, allowing more families to enroll their children in a Catholic school. Last year, eligible families received up to $7,000 for tuition and fees. This amount is expected to increase for the 2022-23 academic year. Please contact your nearest Catholic School about scholarship and financial aid opportunities or visit www.sufs.org/swflcatholic to apply for the Step Up for Students scholarship directly.
Learn how you can give your child the gift of a Catholic education by visiting https://dioceseofvenice.org/offices/offices-departments/catholicschools/.
Follow the Diocese of Venice Catholic Schools Facebook page at https://www.facebook.com/DOVCatholicSchools.
Below is a complete listing (wish address, phone number and website) of each Diocesan Catholic School:
Bishop Verot Catholic High School
5598 Sunrise Drive, Fort Myers
239-274-6700 – http://www.bvhs.org
Cardinal Mooney Catholic High School
4171 Fruitville Road, Sarasota
941-371-4917 – http://www.cmhs-sarasota.org
Epiphany Cathedral
316 Sarasota St., Venice
941-488-2215 – http://www.ecstigers.com/
Incarnation Catholic School
2911 Bee Ridge Road, Sarasota
941-924-8588 – http://www.incarnationschool.edu/
Donahue Catholic Academy of Ave Maria Parish
4955 Seton Way, Ave Maria
239-842-3241 – http://www.donahueacademy.org/
St. Andrew Catholic School
1509 SE 27th St., Cape Coral
239-772-3922 – http://www.standrewcs.org/
St. Ann Catholic School
542 Eighth Ave., Naples
239-262-4110 – http://www.stann.net/
St. Catherine Catholic School
2835 Kenilworth Blvd., Sebring
863-385-7300 – http://www.stcatheschool.org/
St. Charles Catholic School
21505 Augusta Ave., Port Charlotte
941-625-5533 – http://www.stcbs.org/
St. Elizabeth Seton Catholic School
2730 53rd Terrace SW, Naples
239-455-2262 – http://www.saintelizabethseton.com/
St. Francis Xavier Catholic School
2055 Heitman St., Fort Myers
239-334-7707 – http://www.stfrancisfortmyers.org/
St. John Neumann Catholic High School
3000 53rd St. SW, Naples
239-455-3044 – http://www.sjnceltics.com/
St. Joseph Catholic School
2990 26th St. W., Bradenton
941-755-2611 – http://www.sjsfl.org/
St. Martha Catholic School
4380 Fruitville Road, Sarasota
941-953-4181 – http://www.stmarthaschool.net/
St. Mary Academy
4380 Fruitville Road, Sarasota
941-366-4010