Prayer warriors in Ave Maria, Bonita Springs and Washington, D.C., stood as witnesses for life marking the tragic 49th anniversary of the Roe v. Wade U.S. Supreme Court decision which cleared the way for legalized abortion in the U.S.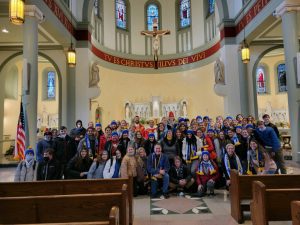 These walks took place with a note of hope and optimism as there is a possibility that the Supreme Court might strike down Roe v. Wade.  That optimism comes from a pivotal Mississippi abortion case, Dobbs v. Jackson Women's Health Organization, that many in the Pro-Life movement see as the best chance to change the law that has led to more than 62 million abortions across the United States. A decision in the case isn't expected until the end of the court's term in June.
Bishop Frank J. Dewane spoke at the first ever March for Life in Ave Maria on Jan. 22, 2022, the National Day of Prayer for the Legal Protection of Unborn Children. More than 600 braved the chilly rain to hear inspirational talks about the local and national Pro-Life Movement before trekking about one mile from a football field to the Parish Church. This joint event was supported by Ave Maria Parish and its school, Ave Maria University and Community Pregnancy Clinics.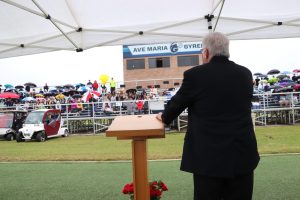 Bishop Dewane was encouraged by the number of people participating in the Ave Maria event and humbled by the large number of young families and couples as well as youth who will be carrying the Pro-Life message into the future.
"Some of us have been fighting for this issue since the beginning and we are encouraged by your presence," Bishop Dewane said. "While some of us might have been lulled by the fact that the recent presentations before the Supreme Court (related to the Mississippi case) could bring about tremendous hope in the future, the next generation needs to be in place to carry on regardless of what happens. We need to be people of prayer, fasting, sacrifice and hard work; people who are willing to stand up and speak out on the life of the unborn over and over again, regardless of what happens in the courts."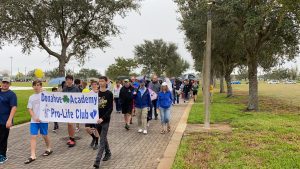 The Bishop concluded his remarks by reminding everyone that abortion is a moral problem that occasionally must be dealt with in a political arena to make change happen. "We must be strong and practical in our approach; speaking out courageously and forcefully, as we remain united in our prayer and opposition to this scourge on our society."
Also speaking at the March were Brent Johnson, representing the University, Pam Stenzel, a national Pro-Life speaker, representing Community Pregnancy Clinics, and Michael Long, a student at Donahue Catholic Academy of Ave Maria Parish.
Long, who is the co-founder of the school's Pro-Life Club, spoke passionately about the millions of babies who have been lost through abortion and described how frustrating it is to hear the arguments from people claiming that the killing of an unborn child is essential women's health care. "How can the death of a child be health care?"
The group then marched from the football field, through the Ave Maria University campus more than a mile to the steps of the Parish Church. Sharon Levesque, who is President of the Respect Life Outreach at Ave Maria Parish and helped organize the march, was pleased with the turnout. Levesque said everyone needs to plan to be at the Second Annual March for Life on Jan. 21, 2023. "We will continue to march so long as the life of any unborn child is threatened in the world."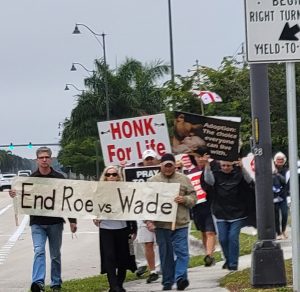 About the same time as the Ave Maria event was happening, a similar vigil was taking place along U.S. 41 in Bonita Springs. There, some 125 people braved similar dreary conditions in a Walk for Life organized by the Pro-Life Outreach of nearby St. Leo the Great Parish.
Several groups from the Diocese of Venice also took part in the National March for Life on Jan. 21 in Washington, D.C.  The March is billed as the "largest human rights demonstration in the world," and was a virtual event in 2021, but returned this year with tens of thousands participating in below freezing temperatures.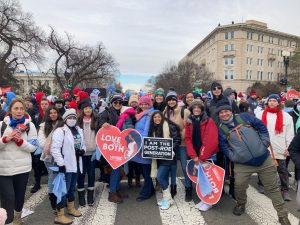 Among the larger groups in Washington were representatives from Bishop Verot Catholic High School in Fort Myers, Cardinal Mooney Catholic High School in Sarasota, St. Michael Parish in Wauchula, Ave Maria University and the Ave Maria School of Law. Several smaller groups from a variety of Parishes also took part including St. William Parish in Naples, Epiphany Cathedral in Venice and Incarnation Parish in Sarasota.
Participants attended the Vigil Mass Jan. 20 at the Basilica of the National Shrine of the Immaculate Conception in Washington, and a Mass on the day of the March for all Florida pilgrims at St. Peter on Capitol Hill Parish where the main celebrant was Father Eric Scanlan, Pastor of Incarnation Parish in Sarasota.
The Bishop Verot group was interviewed by EWTN during the March (found at the 5:31:50 mark – https://m.youtube.com/watch?v=GyxXlYScw0g&feature=youtu.be). EWTN contributor Teresa Tomeo selected to interview the Verot group because of their distinctive gold and blue hats which read "DIOCESE OF VENICE."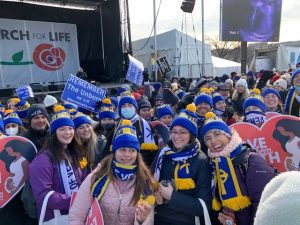 Tomeo first spoke to Verot Director of Religious Activities Mark Latell, who brought a group of 28 juniors and seniors to support life. Latell said a group from Fort Myers annually attends the March and missed not being able to be in Washington in 2021 because of the pandemic. Latell explained that each day on their journey starts and ends with student-led prayer. Upon their return to Fort Myers, the students will put together a video of their experiences and share it with the school community and surrounding Parishes who support the school and the annual trip.
One of the students interviewed, Maddy, expressed how amazing it was to be among so many people who come out for a single cause of standing up to protect unborn lives.
Tomeo asked another Verot student, Ann Marie, what lessons she will take back to Florida after participating in the National March for Life. "I will let other people know that no matter what anybody else's opinions are, it's okay to stand up for what we believe is right and that we shouldn't be ashamed of what we believe."
Praying for life in the Diocese of Venice takes place year-round as prayer warriors stand witness in front of abortion facilities in Naples, Fort Myers and Sarasota each week. Coming soon is the Spring 40 Days for Life prayer campaign in Fort Myers and Sarasota from March 2 (Ash Wednesday) to April 10.
For more information, please contact Diocesan Respect Life Director Jeanne Berdeaux at 941-484-9543, berdeaux@dioceseofvenice.org or visit www.dioceseofvenice.org/respectlife.