Father Antony T. Lukka has been with the Diocese of Venice for the past six years but will soon be returning to his native India for an assignment as principal of a large school in Enamely, Kerala, India, on the southwestern tip of the country along the Arabia Sea.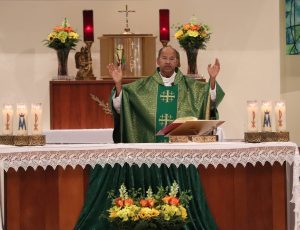 Father Lukka will leave his post as Parochial Vicar of Our Lady of Lourdes Parish in Venice in early February, having previously served as Parochial Vicar at St. William Parish in Naples and Spiritual Advisor to the English Catholic Charismatic Renewal.
The recall to India brings with it profound sadness for Father Lukka as he will miss the many wonderful people he has come to know and appreciate during his time in the Diocese.
"During my time in the United States I have found a deep love for God through the Blessed Sacrament," Father explained. "There is a great compassion and generosity in the people here and I return home rejuvenated in all aspects of my life, both physically and spiritually."
When asked about what he will miss the most of his time in the Diocese of Venice, Father Lukka said it was the visits to the homebound and nursing homes, which he found very rewarding.
"The idea of a nursing home doesn't really exist in India because there is a family spirit as older generations live with their children," Father said. "This is the way the Faith is handed down from generation to generation. My grandmother was my strongest example of the Faith and I carry that legacy of compassion with me to this day."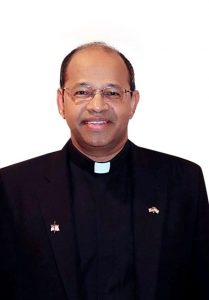 The eighth of nine children, (two sisters are women religious), Father Lukka was born in Kanjirapally, Kerala, India. He holds advanced degrees in chemistry and education and eventually discerned a vocation to the priesthood and studied at the Papal Seminary in Pune.
Ordained on May 30, 1995, for the Diocese of Kanjirapally, Father Lukka said there is a strong Catholic community there which traces its history to the time of St. Thomas the Apostle, who came to the region in the 1st century to spread the Good News of the Lord. Father is part of the Syro-Malabar Catholic Church, an Eastern Catholic Rite based in Kerela, India, which is in full communion with the Pope and the worldwide Catholic Church. The Syro-Malabar Church is the second largest Eastern Catholic Church after the Ukrainian Greek Catholic Church.
In his first few years as a priest, Father served at Parishes in several communities before being asked to be an assistant principal and later principal at a large school in Enamely. The Catholic school has about 4,500 students from kindergarten – 12th grade, with about 20 percent being Catholic.
During his first stint as principal, Father said it was a joyful, yet stressful experience which eventually led for him to request an assignment in the United States. Through a connection to the Diocese of Marquette, Michigan, he received permission to go to Michigan in 2011.
Aside from the obvious culture shock of the U.S., with its wide-open spaces, abundant everything and development which makes life easier, the hardest adjustment for Father was the weather. It was shortly after he arrived that he experienced snow and bitter cold for the first time. "Where I am from, it is very hot and humid year-round, so snow took some getting used to. I even learned to drive in it so I could reach people in need including at two different prisons."
Eventually, Father sought reassignment and because he had heard wonderful things about Bishop Frank J. Dewane and the Diocese of Venice in Florida, he sent his request, which was accepted.
"It was a little bit about the weather but really I heard about the large Parishes and the growth taking place here in Florida so this was where I wanted to serve the People of God," Father Lukka said.
Now, upon receiving a request from his home Diocese in India, he is heading home.
"Through the years I have learned to appreciate that you are sent out and go and be where you are at; it is the flow of life which God decides," Father said. "I will go back to India and be close to my family, taking all the gifts of the Holy Spirit I have received and all I have learned. While I was surprised by the recall and the assignment, I am calm and content, taking the prayers of many well-wishers with me and have an attitude with gratitude."
Father Lukka will say farewell at all of the Masses at Our Lady of Lourdes Parish on the weekend of Jan. 29-30, 2022, before leaving for India on February 2. After 20 hours of flying time and enduring several quarantines, Father will begin his new position as principal by the end of February.