"For A Synodal Church: Communion, Participation and Mission"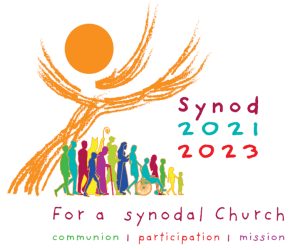 Prayer for the Synod: Adsumus Sancte Spiritus (We stand before You, Holy Spirit)
We stand before You, Holy Spirit,
as we gather together in Your name.
With You alone to guide us,
make Yourself at home in our hearts;
Teach us the way we must go
and how we are to pursue it.
We are weak and sinful;
do not let us promote disorder.
Do not let ignorance lead us down the wrong path
nor partiality influence our actions.
Let us find in You our unity
so that we may journey together to eternal life
and not stray from the way of truth
and what is right.
All this we ask of You,
who are at work in every place and time,
in the communion of the Father and the Son,
forever and ever. Amen.
Listing of 11 Diocese of Venice Listening Sessions
(Completed) Wednesday, Feb. 9, St. Thomas More Parish, 2506 Gulf Gate Drive, Sarasota (Eng.);
(Completed) Wednesday, Feb. 16, Epiphany Cathedral, 350 Tampa Ave. W. Venice (Eng./Sp.);
Tuesday, Feb. 22, Ss. Peter and Paul the Apostles Parish, 2850 75th St. W., Bradenton (Eng./Sp.);
Thursday, March 3, St. Andrew Parish, 2628 Del Prado Blvd., Cape Coral (Eng./Sp.);
Monday, March 14, St. John XXIII Parish, 13060 Palomino Lane, Fort Myers (Eng.);
Wednesday, March 16, Sacred Heart Parish, 211 W. Charlotte Ave., Punta Gorda (Eng.);
Thursday, March 24; St. Elizabeth Seton Parish, 5225, Golden Gate Parkway (Eng./Sp.).
Monday, March 28, St. John the Evangelist Parish, 625 111th Ave. N., Naples (Eng.);
Monday, May 9, St. Catherine Parish, 820 Hickory St., Sebring (Eng./Sp);
Monday, May 16, St. Agnes Parish, 7775 Vanderbilt Beach Road, Naples (Eng.);
Monday, May 23, Our Lady Queen of Heaven Parish, 355 S. Bridge St., LaBelle (Eng./Sp).
To allow for the most participants, please register for only one Listening Session at https://dioceseofvenice.regfox.com/2022-synod-listening-sessions. A virtual Listening Session is in the planning stages and will be announced soon. Email synod@dioceseofvenice.org for any questions or comments regarding the Listening Sessions.