Love was in the air when 180 couples celebrating milestone wedding anniversaries stood united as a testament to commitment through the Grace of God just a few days before Valentine's Day.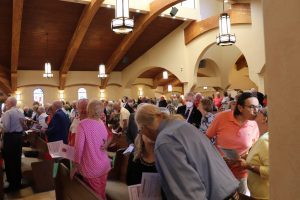 Bishop Frank J. Dewane celebrated the first of two Masses on Feb. 12, 2022, at St. Leo the Great Parish in Bonita Springs, honoring the Sacrament of Holy Matrimony and couples celebrating 25, 30, 35, 40, 45, 50 and 50+ years of marriage. A second Mass is scheduled for Feb. 19 at Epiphany Cathedral in Venice.
"Today is, for me, one of the most personally uplifting and humbling experiences throughout the year," Bishop Frank J. Dewane said. "Couples coming together in the Sacrament of Marriage is such a powerful image of God's love in the world for the rest of us. You continue to live that commitment as the living ministers of the Sacrament and that is humbling to see and important that we celebrate it!"
Alphonse and Lottie Kuznicki, of St. Columbkille Parish in Fort Myers, celebrating their 75th anniversary in October, were recognized as the longest married couple present for the Bonita Springs Mass. The high school sweethearts from Detroit, Michigan, waited until after his service in the U.S. Army during World War II, before getting married in 1947. Al gave Lottie an engagement ring before he departed for his service, and she happily waited. They were married within a few months of his returning from overseas and have not spent a day apart since.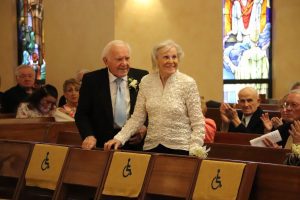 Al Kuznicki said their strong faith created a lasting bond during their courtship, and held them together as they were married and later had children. "We had our ups and downs, but we had a strong faith to keep us going. This is very important."
Also present at the Mass were Norman and Doris Brinkman of Our Lady of Light Parish in Fort Myers, celebrating 72 years; Frank and Lucia Sylvester of St. Agnes Parish in Naples celebrating 61 years the day of the Mass; and 26 couples who are celebrating their 50th anniversary in 2022. In total, the couples present combined for an impressive 8,820 years of marriage.
The Holy Father calls married couples the "Icon of God's image," speaking about the love and witness they give as the years pass and their sacramental commitment to each other deepens.
Pope Francis also says marriage is a "silent homily" by the life lived, by the commitment the spouses share, and by the nice things they do, one for the other.
Bishop Dewane agrees, saying that in our society, the Sacrament of Holy Matrimony is threatened and challenged in so many ways. Therefore, the daily action of each sacramentally married man and woman, whether large and small, "gives a witness to those around you, in the love and commitment you have, one to the other… God has given you husbands and wives the grace to live within the context of this challenging time as God's icon of love. Know that and live it each day, whether married for one year, 25 years or 75 years. What you witness each day matters as you continue to be that icon, that image for others to follow and find God's love in your own life."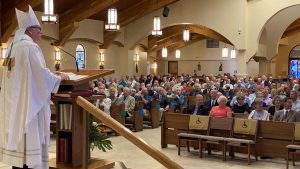 During the Masses, the married couples renewed their wedding vows. In addition, each couple was presented with commemorative certificates, signed by the Bishop, for their enduring commitment to marriage. A reception followed with lunch and the opportunity to have complimentary pictures taken with the Bishop.
At the reception, George and Paula Wright of St. John the Evangelist Parish in Naples and who will be celebrating their 56th anniversary in June, said being part of a Mass honoring the Sacrament of Holy Matrimony was inspiring.
"We have had a good run and there is no slowing down," Paula explained, "but being among these couples together for 70 or more years is wonderful because you know it hasn't been easy, but it is still possible if you chose the right partner and allow the Lord to accompany you on your journey."
The Anniversary Mass in held in two locations each year to accommodate the large and growing number of participating couples and in recognition of the difficulty for some couples to travel great distances.