On the Memorial of Our Lady of Lourdes and the World Day of the Sick, Bishop Frank J. Dewane celebrated Mass for hundreds of Catholic school students in Collier County.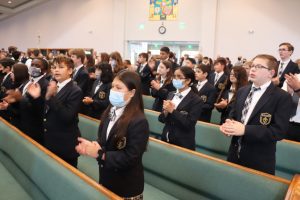 The Mass was held Feb. 11, 2022, at St. Elizabeth Seton Parish. Among those present were the entire St. John Neumann Catholic High School student body, along with middle-schoolers from St. Elizabeth Seton Catholic School, St. Ann Catholic School, Royal Palm Academy, each in Naples, as well as those from Donahue Catholic Academy of Ave Maria Parish in Ave Maria.
Bishop Dewane opened his remarks by complimenting the students on their uniforms (ties, jackets, sweaters), saying the view from the ambo was impressive. "I see you all here; and be proud to know you are each recognized as a Child of God."
Stressing that this designation of "Child of God" needs to mean something to each student, the Bishop said the Lord is always present to heal them. "But, you have to be the one who comes to Christ. He is there all the time and knows you."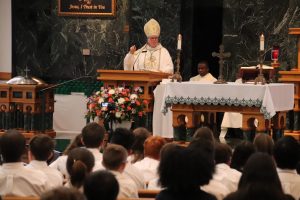 The healing powers of the Incarnate Savior are profound, able to set one off to rekindle the graces given at birth and to live a new life moving forward. The Gospel reading of the day recounted the story of Jesus healing a deaf man with a speech impediment, described in graphic details in the Gospel of Mark: 31-37. "He took him off by himself away from the crowd. He put his finger into the man's ears and, spitting, touched his tongue; then he looked up to heaven and groaned, and said to him, "Ephphatha!" (that is, "Be opened!") And immediately the man's ears were opened, his speech impediment was removed, and he spoke plainly."
"You must recognize Christ as the doer of mighty deeds," Bishop Dewane continued. "Try and understand what the Lord wants you to do when you realize Jesus didn't just heal this man, He did it out of compassion and affection for another human being – follow that example of Christ."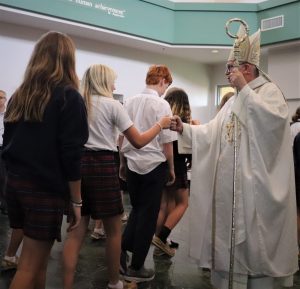 "It is my prayer that each one of you will look at today's Gospel message and learn something about your spiritual wellbeing and the grace you need in your life," the Bishop said. "We work at helping each other, anyone we see in need – and I know you do that well. However, it is also about looking to ourselves and understanding how Christ wants to help you grow spiritually, using the graces that have been bestowed upon you as you continue to become more the man or woman of God you are called to be in your life."
Following Mass, many of the students went to St. John Neumann, joining the high schoolers for lunch, and for some fun activities including outdoors games, a dunk tank and several inflatables inside the gymnasium.
The Mass for Catholic students in Collier County usually takes place during Catholic Schools Week (Jan. 30-Feb. 5), but scheduling conflicts among the schools this year moved the celebration to the week following.