Nestled among the pines and palms off Old Englewood Road, St. Raphael Parish in Englewood looks somewhat like an old Spanish mission. And, since its founding in the 1960s, one of its missions has been to connect members with God's living word.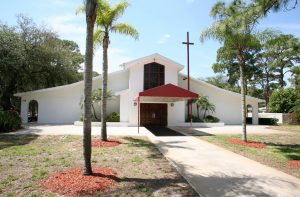 To accomplish this, St. Raphael is one of only two Florida Parishes that offers an annual Cornerstone Catholic Scripture Study. The mission of the St. Louis, Missouri-based Cornerstone is to build, strengthen and deepen a personal and loving relationship with God and His people through prayer and the study of His Word.
"This is my ninth year as a member of the Cornerstone Catholic Scripture Study," Rita Laurinaitis said. "Joining this Bible study group has been the best thing I've ever done for myself. I have connected with the most devout and inspiring people I have ever known. It has strengthened my faith and transformed my whole perspective on my life and my goal of eternal salvation."
In Englewood, the annual studies include examining 20 lessons, starting in November and continuing until April. About 25 participants meet every Monday morning in the Parish Center with sessions opening with a hymn, a prayer and a short talk about the focus of the lesson. Then members take turns sharing the answers to the questions about the chapter of the Bible they worked on at home the week before.
Linda Wiedemeier said it's hard to articulate how deeply Cornerstone has helped her spiritual journey. "I was thinking that I was being a good Catholic, saying my rosaries, retreats and of course, Mass often. Through divine intervention, I was led to this Bible Study Group. I read a small blurb in the Parish bulletin and joined the next fall – best move of my spiritual life!"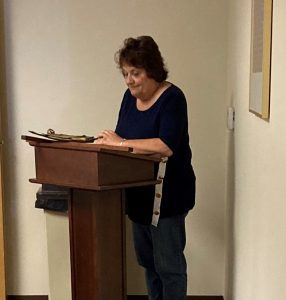 In previous years, the group studied Mark, Exodus, John and Revelation. This year, the group is studying Genesis. This serves as an ideal place to answer that inner yearning to deepen one's understanding of God's word. New members can join at any point during the seasonal study; in fact, the group usually grows quite a bit in January when a migration of visitors arrive.
When possible, St. Raphael's Pastor, Father Robert Murphy, visits and participates in the Bible Study and is an ardent supporter.
"St. Jerome is remembered as having said, 'Ignorance of Scripture is ignorance of Christ.'" Father Murphy said. "I find another way of saying this to be equally true, knowledge of Scripture is knowledge of Christ. But it's more than that."
The group also welcomes a yearly visit from mentors who offer guidance and support. Coffee, refreshments and fellowship are part of the weekly meetings. While there is no fee to participate, small good-will donations for operations costs are collected throughout the season. Lessons can be found online at https://thecornerstonescripturestudy.org/  and paper copies are made available for the computer shy.
For more information about the Cornerstone Scripture Study at St. Raphael Parish in Englewood, please contact Linda Wiedemeier at lindawiedemeier@yahoo.com.