Seminarian Instituted as an Acolyte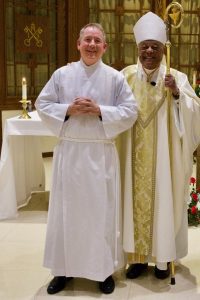 Congratulations to Diocese of Venice Seminarian W. Pat Long, who was among 12 Instituted as an Acolyte on Feb. 9, 2022, at Pope St. John XXIII National Seminary in Weston, Massachusetts. The installation was presided over by Cardinal Wilton Gregory of the Archdiocese of Washington, D.C. The installation Mass plays an important role in the formation of the seminarians in their journey toward becoming priests. As an acolyte, each man's primary role will be assisting the deacon and priest during Mass. They may also serve as Extraordinary Ministers of Holy Communion at Mass, bring Holy Eucharist to the sick, and participate in other tasks while aiding the priest and deacon during liturgical celebrations. Please join in praying for all of these men, but in particular Pat Long who is discerning his vocation to the priesthood for the Diocese of Venice.
Junior reaches scoring milestone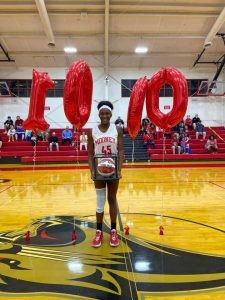 Jordyn Byrd, a Cardinal Mooney Catholic High School basketball player recently reached the 1,000-point milestone in her career. She accomplished this milestone on Feb. 11, 2022, in Sarasota, during a victory which led to a regional playoff win. Jordyn also plays volleyball and in January was named 2021-2022 Gatorade Florida Volleyball Player of the Year. She has maintained a 3.72 GPA in the classroom and will begin her senior year of high school this fall. She has already committed to continuing her athletic and academic career at the University of Texas.
Kinder surgeons' scrub in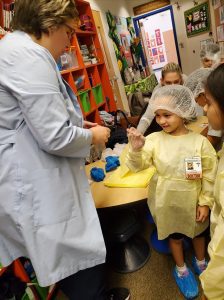 Future surgeons at St. Martha Catholic School in Sarasota showed their skills in Christina Via-Reque's Kinder Cardiology on Feb. 10, 2022! These doctors scrubbed in and worked on their patients to practice reading, writing, colors, motor skills, sounding out words, math and more!
Soccer team dream season ends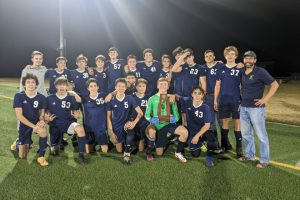 The Donahue Catholic Academy of Ave Maria Parish boy's soccer dream season came to an end with a 2-1 loss in the Class 2A-Region 3 quarterfinal match on Feb. 9, 2022, to Bradenton Christian Academy. The Shamrocks' Aidan Minter accounted for the only goal in the heartbreaking loss. The Shamrocks had earned a home field game by clinching a district title on Feb. 4. The team should be proud of their success and vow to do better next year.
Schools share Valentines in community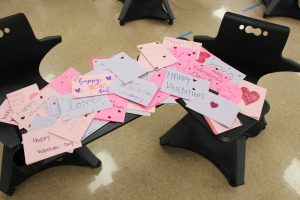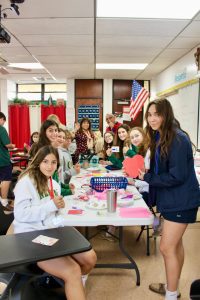 Two Diocese of Venice Catholic high schools took time out this Valentine's Day to give back to the community. Students at St. John Neumann Catholic School in Naples were thinking about the special day for a few weeks in many homeroom classes, as well as the Spanish Club, taking time to make cards for local assisted living facilities, as well as for the Salesian Sisters of St. John Bosco at the Provincial House, in New Jersey. Another class took note of where they saw love at the Naples school. Members of the Bishop Verot Catholic High School National Honors Society in Fort Myers hosted a Valentine's Day celebration for clients of Special Populations in Cape Coral, a program for adults and children with intellectual disabilities which strives to promote independence.
Seventh graders enjoy high school experience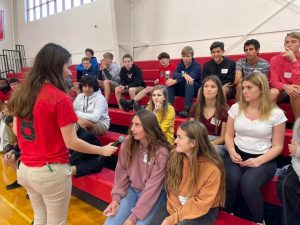 Some 70 seventh graders from St. Martha Catholic School and St. Mary Academy in Sarasota enjoyed a Cougar Experience Day on Feb. 9, 2022, at Cardinal Mooney Catholic High School. In addition to a tour, the younger students took part in fun activities across the campus and heard from the high schoolers who shared what makes Mooney so special.
Hands-on science is key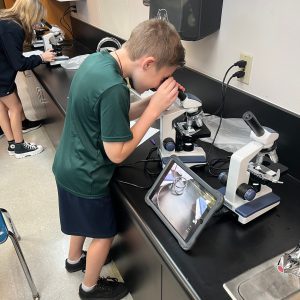 To ensure that students at St. Andrew Catholic School learn the necessary skills to function in a modern world, the use of iPads and technology is standard. However, experience using tools such as a microscope still serve a vital purpose in the learning process. On Feb. 9, the sixth-grade science class in Cape Coral used their microscopes to identify various elements as part of a larger STREAM (Science, Technology, Religion, Engineering, Arts, Math) curriculum. Of course, they were able to create images of the slide and save them on their iPads, but using the actual equipment made a real difference in the lesson.