Bishop Frank J. Dewane was among a group of religious leaders who spoke out against hate during an Aug. 23, 2022, Venice City Council meeting.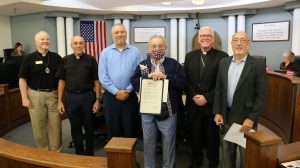 The City Council approved a proposed proclamation condemning a June 25 incident during which anti-Semitic flyers were distributed to lawns and driveways of residential homes in the City of Venice. Shortly after the that disturbing event, Venice Mayor Ron Feinsod received an e-mail in the form of anti-Semitism hate mail.
Bishop Dewane supported the City Council proclamation, expressing the need to both condemn and prevent all acts of hate, saying "anti-Semitism is simply unacceptable. It must not be tolerated. Let us work together to prevent hate in all its forms, in our words, in our deeds, and in our prayers."
In response to the June incident, Bishop Dewane drafted a letter to the editor, which was subsequently published in local newspapers and appeared in the July 15 e-edition of the Florida Catholic (https://dioceseofvenice.org/bishop-condemns-hateful-acts-of-anti-semitism/.) In that letter, the Bishop called such incidents of anti-Semitism disheartening and disturbing.
Since the start of 2022, similar anti-Semitic incidents have taken place not only in Venice, but Punta Gorda, Naples, Fort Myers and Sarasota. The Bishop has been vocal in his outrage against such incidents and is a staunch supporter of the Jewish people.
"The Diocese of Venice has tremendous compassion and empathy for what has occurred in the history of the Jewish people and has always valued and indeed cherished its longstanding relationship with the Jewish Community," Bishop Dewane said. "An emphasis has been placed on deepening our shared roots, the teaching of tolerance in our schools and Parishes, and fostering interreligious friendships."
Among those speaking out at the Venice City Council meeting was Pieter Kohnstam of Venice, a Holocaust survivor who knew Anne Frank, her having been his babysitter while they lived in the same building as children in Amsterdam, the Netherlands.
The proclamation, which was proposed during the first City Council meeting since June, stated that the rise in anti-Semitism throughout Venice, the county, the state and the country is both offensive and deplorable. "The contents of the flyers and the e-mail violate our sense of common decency and moral behavior. These incidents have created concern and outrage in our community, which is founded on our nation's principals of protecting individual rights, including freedom of religion."
The Proclamation concluded with the statement, "We, the people of the City of Venice do hereby declare that all forms of hate, racism and anti-Semitism are considered an attack on every citizen and visitor to our great city."
Other religious leaders were also present to speak out against hatred. Once passed, a copy of the Proclamation was presented to Kohnstam.