Bishop Frank J. Dewane calls on Catholics to condemn and work to prevent hateful anti-Semitic acts in the wake of a recent spate of hateful flyers showing up at homes across the Diocese of Venice.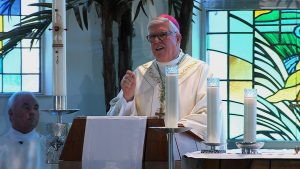 Incidents taking place throughout June 2022 in Venice, Punta Gorda, Naples and Fort Myers, where flyers were placed on the doors of homes containing anti-Semitic vitriol, come on the heels of similar incidents in Sarasota in early 2022.
As in the case of the Sarasota incident, and in all cases of public anti-Semitism, Bishop Dewane has been quick to condemn these acts, calling them disheartening and disturbing.
In a show of support with the Jewish people and in response to these latest incidents, letters to the editor from the Bishop have appeared in several local newspapers in the region calling on all to join him in condemning these hateful acts.
Bishop Dewane noted that Pope Francis spoke recently about "this 'escalation of evil' in the world and identified an antidote. 'The antidote to this escalation of evil is remembrance of the past… of its wars … of countless other atrocities.'" In the words of Bishop Dewane, "Let us remember!"
In the letter, the Bishop Dewane wrote: "The Diocese of Venice has tremendous compassion and empathy for what has occurred in the history of the Jewish people and has always valued and indeed cherished its longstanding relationship with the Jewish Community. An emphasis has been placed on deepening our shared roots, the teaching of tolerance in our schools and Parishes, and fostering interreligious friendships."
As the letter to the editor states: "Anti-Semitism is simply unacceptable. It must not be tolerated. Let us work together to prevent hate in all its forms, in our words, in our deeds, and in our prayers."