Youth from across the Southeastern United States spent July 8 to 10, 2022, listening to dynamic talks, hearing moving music, praying, participating in Eucharistic Adoration, going to Confession, attending daily Mass, and making new friends.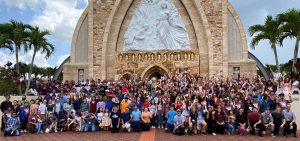 With a theme of "Fearless," the goal of the 14th annual Ave Maria University Youth Conference was to allow high school-aged youth to come to know God in a more personal way as well as to learn how to touch the lives of others through their own life. Many young men and women from throughout the Diocese of Venice participated in the Conference and they were joined by youth from each part of Florida and beyond.
The youth raved about the weekend, one young man from Naples said "this was so awesome. Jesus was everywhere."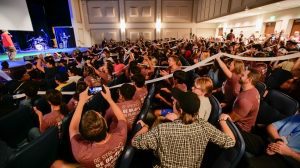 The weekend was not just simply listening to inspirational speakers and musicians who encouraged the young people to become more involved in their faith and to be guided by the Word of Christ; it was an interactive experience meant to awaken the Holy Spirit for the Conference goers.
The Conference was capped with Mass celebrated by Bishop Frank J. Dewane at Ave Maria Parish on July 10, directly across from the University.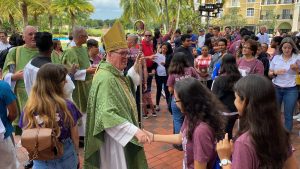 Bishop Dewane said he prayed the youth took advantage of the Conference and that they "will go forward for the Lord, and the Lord with them."
Citing the Gospel reading, Luke 10:25-37, the parable of the Good Samaritan, the Bishop said the lesson is for each of us to follow the Lord's example, showing mercy and compassion.
"We have been made in the image and likeness of God; called to live that ethical moral example of the Good Samaritan, that is given to you, and to me, in our lives," Bishop Dewane concluded. "It is my prayer that you go forward and live that life, to be the Good Samaritan, in union with Christ."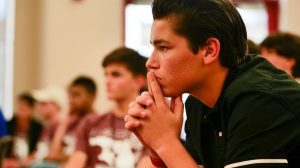 Following the Mass, Bishop Dewane took part in a large group picture and other individual and Parish-centered photos, while the youth thanked him for celebrating the Mass and offering his inspiring words. In return, the Bishop again challenged them to live those words each day.
One young lady from Cocoa Beach summed up the weekend this way: "My spirit is filled with Christ's love. I am now ready to do more, to show my friends and family how much love, joy and comfort the Church provides."
Featured talks were by Father Rick Martignetti, Father Joseph Lugalambi, Father Rich Pagano and Chris Padget. The event included the talks, Mass, Adoration, praise and worship, fellowship, and opportunities for confession.