"We are making progress."
This simple phrase, repeated in recent weeks by people throughout the Diocese of Venice, represents the resilience, hope and bright future as the region marks the six months since Hurricane Ian struck on Sept. 28, 2022.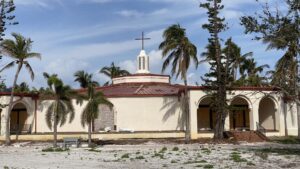 The statistics from the National Weather Service do little to tell the scope of the impact of Hurricane Ian. Maximum sustained winds were 155 mph, the storm surge reached 18 feet, flooding rain exceeded 30 inches, and this was followed by catastrophic river flooding days later. The death toll in Florida was 148 (104 within the 10-county Diocese of Venice). In Lee County alone, 5,000 homes and businesses were destroyed and another 50,000 had significant damage with upwards of $60 billion in overall insured losses.
Ian took a heavy toll on the Diocese, with more than 800 reports of damage to various properties and significant damage to more than 400 structures.
Under the leadership of Bishop Frank J. Dewane, teams from the Diocese, as well as Catholic Charities, Diocese of Venice, Inc., were preparing for the hurricane's arrival and then sprang into action by getting on the road assessing damage and taking action to mitigate further damage while also bringing emergency supplies to areas in greatest need.
The small staff of Catholic Charities, with the help of hundreds of volunteers, set up 10 distribution sites, with the help of the Parishes, where water, food and other supplies were distributed to more than 110,000 people during the initial weeks following the storm. That response has transitioned into long-term disaster recovery because within the 10-county Diocese more than 400,000 applications for FEMA assistance have been made.
Bishop Dewane praised the staff, Parish volunteers, and supporters of Catholic Charities for coming together in the wake of Hurricane Ian. "Catholic Charities accomplished a tremendous amount and did a great deal of work. There is much more that needs to be done, and the team is in position, on the front lines, making a difference each day."
Joe Rego, Diocesan Director of Building and Construction, said that after mitigation work was done to prevent further damage to Diocesan properties, the long process of rebuilding began immediately.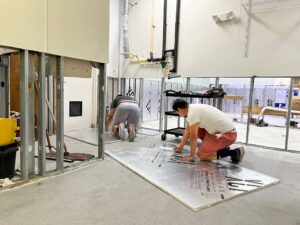 "While there was a will and desire to work fast, the realities of the moment became immediately apparent," Rego explained. "The issue across the area was that there are limited numbers of contractors and supplies available to do the work."
Rego went on to say that priorities were placed on Fort Myers Beach, Sanibel, Pine Island, Fort Myers and elsewhere, but only so much could be done with the resources that were available immediately after the storm.
"Now, with more supplies and contractors available, the Diocese is ramping up work at every location," Rego said. "We have contractors working as fast as possible at dozens of sites. Parishes and schools are now seeing the fruits of the hard work."
With one exception, nearly all reconstruction is expected to be substantially completed by the fall. The exception is Ascension Parish and the adjacent Poor Clare Monastery of San Damiano on Fort Myers Beach, which experienced a 15-foot storm surge and destroyed all but two buildings.
"The two surviving buildings (the rectory and monastery convent) are safe and secure, but they both need to be rewired and have new pipes due to saltwater intrusion put in just to make them functional," Rego said. "We are targeting the fall for that work to be done. The other buildings will be torn down and it will take several years for the rebuild to be complete."
That overall reconstruction timeline is very similar to the aftermath of Hurricane Charley in 2004, when two Parish churches were destroyed, and it took four years for the reconstruction to be completed. However, as we all know, prices have risen substantially since 2004.
Bishop Dewane said that the amount of work already achieved in Parishes and Diocesan Catholic schools and other properties, has been impressive. During his travels throughout the Diocese, he regularly witnesses firsthand the progress being made in the hardest hit areas.
"While we want this work done as quickly as possible, we don't have to look too far around the community to see that no one is rebuilding quickly," Bishop Dewane. "But from that destruction strength and resilience bloomed, mixed in with lots of patience, as the recovery from Hurricane Ian continue."
As the rebuilding and recovery from Hurricane Ian continues within the Diocese of Venice, the details of several of the large rebuilding efforts will be updated in the Florida Catholic.
For those interested in making a financial donation to the Diocesan response to Hurricane Ian, please visit www.dioceseofvenice.org/hurricaneian, or send a check to Diocese of Venice in Florida, ATTN: Hurricane Ian Relief, 1000 Pinebrook Road, Venice, FL 34285.