On the last Sunday of each liturgical year, the Church celebrates the Solemnity of Our Lord Jesus Christ, King of the Universe, or Christ the King.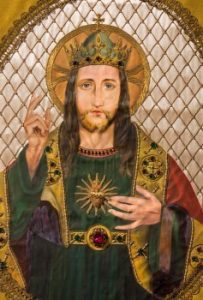 Pope Pius XI instituted this feast in 1925 with his encyclical Quas primas ("In the first") to respond to growing secularism and atheism. He recognized that attempting to "thrust Jesus Christ and His holy law" out of public life would result in continuing discord among people and nations. This solemnity reminds us that while governments come and go, Christ reigns as King forever.
The U.S. Conference of Catholic Bishops notes that this Solemnity is a fitting moment in the liturgical year to promote the Church's teaching on religious freedom. The USCCB Ad Hoc Committee for Religious Liberty "urge[d] that the Solemnity of Christ the King – a feast born out of resistance to totalitarian incursions against religious liberty – be a day specifically employed by Bishops and priests to preach about religious liberty, both here and abroad."
Bishop Frank J. Dewane said this year's commemoration of Christ the King Sunday has a special meaning for the people of the Diocese of Venice.
"On the Solemnity of Christ the King, in these trying times in which so many still suffer from the aftermath of Hurricane Ian, let us be mindful of hope," Bishop Dewane said. "Hope, like faith, is a gift from God. On this day, we can ask Christ the King, the first to rise from the dead and head of the Church, to strengthen in us the hope that is essential to our faith, the hope that pushes us forward even when facing difficulty. In prayer, let us acknowledge that Christ is our King, and with Christ all things are possible. By truly knowing that our origin and end is in Jesus Christ Our King, we find hope, peace, justice, freedom, and happiness."
Pope Francis said in a 2021 address about Christ the King, "His kingship is truly beyond human parameters. We could say that he is not like other kings, but he is a King for others."
The Holy Father said that Jesus was a king who liberated His followers, freeing us from being subject to evil.
"His Kingdom is liberating, there is nothing oppressive about it," Pope Francis continued. "He treats every disciple as a friend, not as a subject… Christ wants to have brothers and sisters with whom to share His joy… We do not lose anything in following Him — nothing is lost, no — but we acquire dignity because Christ does not want servility around Him, but people who are free."
As stated by Pope Pius XI, Christ's kingship is rooted in the Church's teaching on the Incarnation. Jesus is fully God and fully man. He is both the divine Lord and the man who suffered and died on the Cross. One person of the Trinity unites Himself to human nature and reigns over all creation as the Incarnate Son of God. "From this it follows not only that Christ is to be adored by angels and men, but that to him as man angels and men are subject, and must recognize his empire; by reason of the hypostatic union Christ has power over all creatures" (Quas primas, 13).
For more information and resources about the Solemnity of Christ the King, please visit https://www.usccb.org/christtheking.