At Sunday Masses the weekend of May 14-15, 2022, Faithful in the Diocese of Venice will have an opportunity to contribute to a special collection for the Archdiocese for the Military Services, USA (AMS).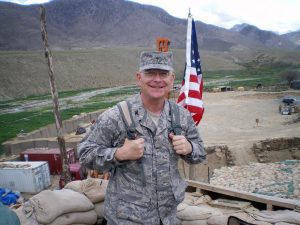 Father Robert R. Cannon, Ch, Col, USAF (Ret.), knows first-hand the value of such a gift from anyone who can contribute. Not only is Father Cannon a priest of the Diocese of Venice, he is also the AMS's Chancellor in Washington, DC. He is a vital contact for fellow Catholic priests serving worldwide as U.S. Military Chaplains, a position Father held for almost 30 years.
"It's hard to describe how a Catholic priest affects so many people," Father Cannon says, "just by being a priest on a base and people learn who you are, you immediately have a flock. You're their shepherd. They don't even have to know you. As soon as they see that Roman collar you have thousands of people that are going to be trusting you and looking for support from you. Your very presence is a great consolation and comfort to Catholic military members and families."
But Catholic priests are increasingly in short supply on active duty these days because of attrition: aging chaplains are retiring faster than they can be replaced. Twenty-five percent of the U.S. Military's nearly 1.2 million men and women on active duty are Catholic, but the Military's 192 active-duty Catholic priests make up just seven percent of the Chaplain Corps. In response to the shortage the AMS, along with partner Dioceses and religious communities, has developed a thriving "Co-Sponsored Seminarian Program," in which dozens of men are now in formation to become priest-chaplains and help relieve the shortage. This includes Diocese of Venice Seminarian Jacob C. Gwynn, who was commissioned as an Ensign in the United States Navy on Jan. 22, 2021, at St. Vincent de Paul Regional Seminary in Boynton Beach. He is a Chaplain Candidate Program Officer, pursuing serving God and country as a Chaplain.
The AMS, which receives no government funding, has no network of local parishes to take up collections, and depends entirely on private giving for survival, now faces a $3.5 million seminary bill over the next five years. That's in addition to the archdiocese's annual operating budget of more than $7 million to provide religious education and faith formation for military families, an active archive of sacramental records, a tribunal to handle anomalous marriages, annulments, and other issues of canon law, travel for AMS Bishops, and other forms of pastoral care for Catholics in uniform and veterans receiving care in the nation's Department of Veterans Affairs (VA) medical centers.
Seeing the AMS's growing need for support back in 2012, the U.S. Conference of Catholic Bishops (USCCB) approved the special collection in Parishes nationwide every three years. The first collection was taken up in 2013 with others to follow in 2016, 2019, and now, 2022.
Father Cannon was ordained in 1978 for the Diocese of St. Petersburg but became a priest of the Diocese of Venice when St. John Paul II erected the new Diocese in 1984. Father became a Chaplain in the U.S. Air Force Reserve in 1986 and was asked by the USAF Chief of Chaplains to go on extended active duty in 2003. Before his active duty, Father Cannon held several positions, including Dean of Students and Adjunct Professor of Social Sciences at St. John Vianney College Seminary in Miami, Diocesan Judicial Vicar, and Rector of Epiphany Cathedral in Venice.
He vividly recalls leaving his position as rector to answer the call to serve those who serve in faraway places. "I admit that I cried driving I-75 with a packed car up to Washington, D.C. I had come to love the people, the Cathedral. I certainly was able to relate to military personnel when they had to leave their families."
As Father Cannon knows all too well, time and resources are precious commodities for a Catholic priest on active duty in the U.S. Military. Priests like Father Cannon can provide the time, but only the Faithful can provide the resources through the 2022 national collection on May 14-15. If you wish to contribute directly to the Archdiocese for the Military Services, USA, visit milarch.org/nationalcollection.
Story courtesy of the Archdiocese for the Military Services, USA