World Mission Sunday, the annual worldwide Eucharistic celebration for the Missions and missionaries of the world, will be celebrated on Oct. 22, 2023.
"This annual celebration joins Catholics worldwide into one community of Faith, inviting us to recommit ourselves to the Church's missionary call through prayer, participation in the Sunday Eucharist, and sacrifice," Bishop Frank J. Dewane wrote in a letter to the faithful.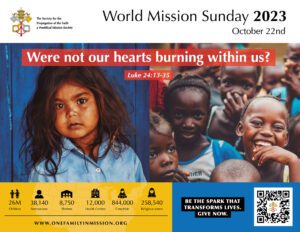 Throughout the year, the Pontifical Mission Societies support the work of mission priests, religious Sisters and Brothers, and lay pastoral leaders. "These missionaries not only provide food, housing, education, and medical care to the most impoverished communities throughout the world, they offer hope and compassion," Bishop Dewane wrote.
In the Diocese of Venice, the World Mission Sunday Collection will take place on the weekend of Oct. 21 and 22. World Mission Sunday offers each one of us an opportunity to support the life-giving presence of the Church among the poor and marginalized.
Instituted in 1926 by Pope Pius XI, the day is celebrated in all the local Churches as the feast of Catholicity and universal solidarity so Christians the world over will recognize their common responsibility with regard to the evangelization of the world.
The theme for 2023 is "Hearts on fire, feet on the move," based on the story of the disciples who encounter Jesus on their way to Emmaus (cf. Lk 24:13-35).
Reflecting on the theme, Pope Francis, in his Message for World Mission Sunday 2023, invites us to set out "to make other hearts burn with the word of God, to open the eyes of others to Jesus in the Eucharist."
The Pontifical Mission Societies notes that this collection is a unique, global effort for the entire Church to provide for the building up of more than one thousand local churches in Asia and Africa, the Pacific Islands, and parts of Latin America and Europe. Through the work of these churches, and their witness to Christ, the poor receive practical help and experience God's love and mercy, His hope and peace.