The 39th Annual Emerald Ball was a great success! Held on March 16, 2023, at the Ritz Carlton Tiburon in Naples, proceeds from the elegant evening will go to support the many programs of Catholic Charities, Diocese of Venice, Inc., in Collier County.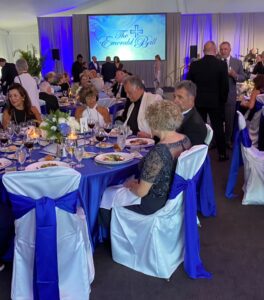 The annual event was forced to relocate from the Ritz Beach Resort due to the impacts of Hurricane Ian. The hurricane was on the minds of many as the community continues to recover from the storm which flooded coastal areas and wreaked havoc in the area.
The enthusiastic crowd was dressed in elegant eveningwear and the Ball included fine dining, lots of dancing, upbeat music, and a spirited live auction with the "Gift from the Heart" bringing in many enthusiastic bidders. The theme, "Yesterday is gone. Tomorrow has not yet come. We have only today. Let us begin," was inspired by a quote from St. Mother Teresa of Calcutta.
Peggy Rodriguez, District Director, welcomed everyone to the evening and explained the different outreach work Catholic Charities is doing and continues to do for the community daily.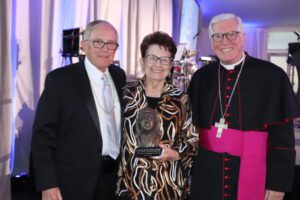 Bishop Frank J. Dewane presented the James A. McTague Humanitarian Award to Richard and Josephine (Dick and Jo) Rogan. The Rogan's are active at St. Peter the Apostle Parish and volunteer in many different capacities. Dick has served as a member of the Catholic Charities Collier County Advisory Board and is past Chairman of the Catholic Charities Board. After Hurricane Irma in 2017, he helped mobilize and lead more than 300 volunteers to assist with relief efforts distributing food and water to more than 25,000 people.
Programs supported by the Ball include the Judy Sullivan Family Resources Center, Family Counseling Center, Golden Gate Senior Center, and Guadalupe Social Services, each offering a variety of targeted outreaches to help those in need.
Barbara L. Siniscalchi served as chair of the Emerald Ball Committee with the support of many co-chairs. Bishop Frank J. Dewane offered the opening invocation and presented the McTague Humanitarian Award.
If you would like to support the programs of Catholic Charities, Diocese of Venice, Inc., please visit www.catholiccharitiesdov.org.