Ahead of even the population growth in the region, the 15 Diocese of Venice Catholic schools are each witnessing a large increase in enrollment.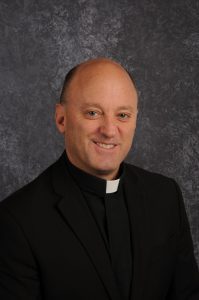 With just days before the start of the 2022-2023 Academic Year, enrollment is up 25% over the start of this 2020-2021 Academic Year. That year was when Diocesan schools opened on-time during the height of the pandemic.
As of July 29, 2022, the increase across the Diocese school increases ranged from 13% to 39%, with the average of 25%. That means there are 1,360 more students in Diocesan classrooms as compared to 2020 for a new total of 5.798.
"These are very impressive numbers," said Jesuit Father John Belmonte, Diocese of Venice Superintendent of Catholic Education. "Those are just as of July 29, 2022, and we will still go up throughout August. In fact, we have wait lists in grades at every school. That is fantastic!"
The benefits of a Catholic education are well documented as 99 percent of graduates go on to higher education, national testing scores are well above average and in the Diocese of Venice the quality education is infused with Catholic values, teachings and traditions.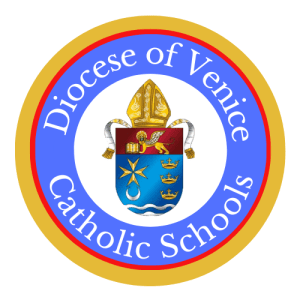 "The well-rounded education that each student receives is focused on Christ and integrates age-appropriate learning while helping to develop the mind, body and soul," Father Belmonte said.
Bishop Frank J. Dewane said he is most pleased because the enrollment numbers are going up at each Diocesan Catholic school and that speaks to the future success of these young women and men of God.
"Catholic education offers something public schools cannot – teaching in morals and values – with Christ at the center. These numbers prove that is what parents want," Bishop Dewane said. "The Diocese is blessed that so many families choose to send their children to our schools. We take that responsibility very seriously and walk hand-in-hand with parents who are always the first and best educators of their children."
In addition to the obvious population growth, the increase in enrollment can be attributed to the stellar reputation of Diocesan Catholic schools, and massive expansion of the project-based learning effort that is increasing the STREAM (Science, Technology, Religion, Engineering, Arts and Math) model and incorporating the Diocesan curriculum called, "The Gifts of Christ: Truth, Beauty, Goodness, Affability, Fortitude, Humility, and Prudence." This is all part of an incorporated Diocesan robotics program which broadens the opportunities for each student.
The Florida Step Up for Students scholarship program has aided in this enrollment effort. The program allows that a family of four making $111,000 or less can earn up to $8,000 scholarship toward Catholic school education of each child in the family. Dependent children of a member of the U.S. Armed Forces or law enforcement qualify for the scholarship regardless of income.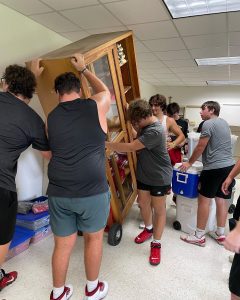 Father Belmonte explained that an additional benefit of the Step Up for Students scholarship money is that allows money to be freed from other school or Parish scholarship initiatives for other families expanding the number of people who can cover the costs for a Catholic Education.
"There have been many factors in this effort, but credit really goes to the team at each school," Father Belmonte said. "They serve as a beacon of Catholic education and their reputation continues to grow."
With 5,798 students enrolled, that brings the capacity of all classrooms in the Diocese to 93%.
"Further, that means we had to create new spaces for the students in schools where we grew so fast," Father Belmonte said. "This is a good problem to have. At no point are we compromising education just to add a few more students into a classroom. The standards of the Diocesan Catholic schools are high and will stay that way."
As schools prepare for the 2022-2023 Academic Year starting the week of Aug. 8, Father Belmonte said he would not be surprised if the numbers continue to increase with late registrations from new arrivals to Florida or transfers from public schools.
"These are exciting times in the Diocese of Venice Catholic schools," Father Belmonte said.