In the four years since Hurricane Irma devastated Southwest Florida and heavily damaged St. Elizabeth Seton Catholic School, the community has made a remarkable comeback.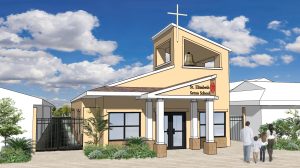 The School, located in the Golden Gate neighborhood, had extensive roof and water damage from the Sept. 10, 2017 hurricane, with repairs taking more than 13 months. While there was a slight dip in enrollment following the hurricane, St. Elizabeth Seton Catholic School has made a remarkable comeback and is thriving, outgrowing its existing space with enrollment up 30 percent since 2017.
To accommodate the growth and mark the 40th Anniversary of the founding of the School, a fundraising campaign to allow for campus expansion was started in March 2021, explained Gina Groch, Seton Communications Director. While the response has been good, much remains needed to raise the needed funds.
The first phase of the project, with funding secured, included the installation of a permanent portable classroom for additional middle school space. This will be installed in the coming months. In addition, during the summer months, the cafeteria was redesigned and transformed into the new related "Arts Center." This will place under one roof the music and art classes, band, and the expansion of the STREAM (Science, Technology, Religion, Engineering, Arts, Math) program. The full conversion of the space is ongoing and will be completed later in the year.
The largest part of the expansion planned is the construction of a new administration building. Since Hurricane Irma in 2017, the administration offices have been operating out of a second-floor classroom. However, the new building will free up valuable classroom space and thus enhance the campus.
Details of the 1,971-square-foot project includes a secure, single point of entry for visitors, parents and students. New space will be provided for admissions, clinic, accounting, advancement, as well as offices for the assistant principal and principal. The finished building will allow greater visibility from the main road, giving a sense of welcome with an attractive entrance.
Groch said the support for the campus expansion program has been overwhelmingly positive with more than 220 donors so far, however the job is not yet complete.
"We continue to look for donors who believe in our mission and can help in our efforts to provide additional classroom and administrative space to support our growing enrollment," Groch said. "No amount is too small or too large! All fundraising through this year will benefit the campus expansion. Our hope is to be able to improve the campus and build without any debt."
If the goal is met by the end of 2021, the plan would be for the construction of the administration building to start in 2022.
For more information about St. Elizabeth Seton Catholic School, call 239-455-2262 or to support the campus expansion program, visit https://saintelizabethseton.com/giving/, or, checks may be made to: St. Elizabeth Seton Catholic School, Attn: 40th Anniversary, 2730 53rd Terrace SW, Naples, FL 34116.