Bob Reddy – Florida Catholic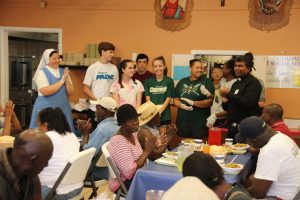 When a group of 21 St. John Neumann Catholic High School students talk about what they did for their summer vacation, they will each have compelling stories to tell.
For one week they opted to start their summer by being part of the Immokalee Service Week. This is the fourth year that a group from St. John Neumann has journeyed to Immokalee for a service retreat.
The service trip was organized by Sister Katie Flanagan, Salesian Sister of St. John Bosco on the faculty of at St. John Neumann. She prayed each student would gain a renewed sense of Christian Service from their experience.
One student reflected on the week as a revelation for her that even doing the smallest act of kindness can bring joy to others. "I had no idea I would be able to impact people in such a way. The smiles we have been getting have been incredible. Everyone is so grateful for us being here. We are here representing St. John Neumann; but we are also representing Jesus in our presence. That is very powerful."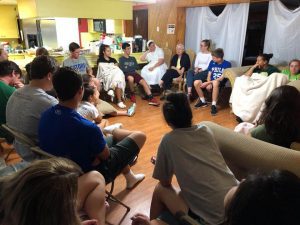 Immokalee is about a 40-minute drive from St. John Neumann Catholic High School, but the difference between Naples and Immokalee can be shocking for anyone who has never travelled off the main roads. The Collier County city is home to many farms and food processing facilities and is one of the poorest communities in the State of Florida.
During their retreat, the students worked and assisted in a variety of tasks at several locations. Of particular focus was helping at Guadalupe Social Services, a program run by Catholic Charities Diocese of Venice Inc. The men and women helped at the Casa Maria Soup Kitchen, serving hot meals. They also assisted in loading bags of food for distribution and organizing the storage rooms. The group brought their own food donations and later assisted in the mobile food program by going out into a nearby neighborhood to knocked on doors with offers of a bag of groceries for each family.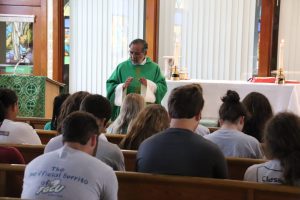 It was in the neighborhood and the soup kitchen that the students saw the true face of Immokalee. They learned that the food provided at lunch is often the only food many of those individuals have all day, and it is certainly the only hot food they will have.
The week for the St. John Neumann students was not limited to the one location. In fact, the students toured Immokalee and learned about the struggle of the families who work and live there and heard a presentation from the Coalition of Immokalee Workers about the plight of farm workers in the region. Other service activities for the students included helping to rehabilitate a house for Habitat for Humanity, assisting at Collier Parks and the Salvation Army.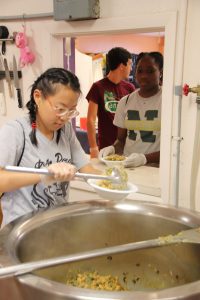 The activities were a mix of manual labor and interaction with local residents. The thanks received from those they encountered were what filled their hearts with joy. The overall experience was a true encounter of seeing Christ in others, one student explained.
Each day included daily prayer, time for reflection, and Mass celebrated at Our Lady of Guadalupe Parish by Fathers Ignatius Reddy Yeruva and Tobias Sabariar, Missionaries of Compassion from India who assist with Catholic Charities.
The students were in awe and wonder at the conditions people live in throughout the area and the poverty the young children are forced to live in, particularly compared to their nearby hometown of Naples. Each student noted how powerful and rewarding the experience was for them, something they will carry forward for the rest of their lives.
For more information about St. John Neumann Catholic High School, please call 239-455-3044 or visit www.sjnceltics.org.
For more information about Guadalupe Social Services of Catholic Charities please call 239-657-6242, e-mail peggy@catholiccharitiescc.org or visit www.catholiccharitiesdov.org.