When you ask a student to create an image of the Blessed Virgin Mary, the results can be inspirational.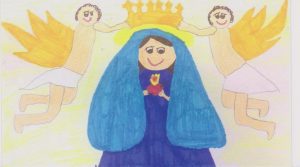 Using vivid colors and inspiring imagery, six Diocesan Catholic school students were recently honored for their artwork as part of an All Saints Devotional Project focused on the Blessed Virgin, Queen of all Saints.
The recognition came on April 28, 2022, at Epiphany Cathedral in Venice, where an All Saints Devotional Mass was celebrated by Father John Belmonte, SJ, Diocesan Superintendent of Catholic Education.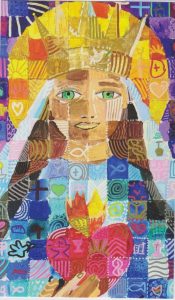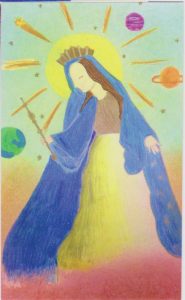 Invited to the Mass were the artists and their families, as well as principals, art teachers and junior catechists from each of the 15 Diocesan schools.
"During this past year, you were encouraged to bring great devotion into your hearts and into your lives to Our Lord and Savior through the Blessed Mother," Father Belmonte said. "We continue to ask Our Lord that He might give us the grace to be truly devoted to Him, to His mother and to His Church."
Father Belmonte said that when a student thinks about devotion, they must think about being affectionate in various ways, but most importantly an affection to those things that are more important.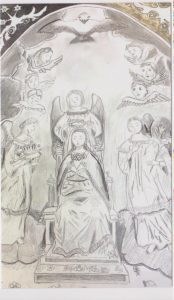 "When we pray to the saints, it is intended to help us grow in affection – not necessarily for those things in this world, as important as they might be – but instead to grow in affection to the things of God so that we can keep those at the center of our lives," Father continued. "And if we are able to be affectionate to not only the things of this world but also to the things that are of part of Heaven, then we begin to live our lives directed toward God and toward a destiny of eternity with a life with God in Heaven."
Father Belmonte said that through the All Saints Devotional Project he wants the students to have a chance to reflect on the different saints. During that process they learned about holy people who have gone before us in the faith and shined the light of Christ in a specific way, each making our world and our lives better.
"Let us ask the saints – all the saints we have shown devotion to during the course of this year, especially Our Lady, the Queen of All Saints – that all of us can grow in that mission that we can be people whom the light shines through," Father Belmonte concluded.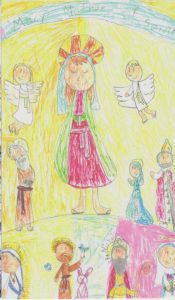 The six winning artists were selected from among 150 entries from Diocesan Catholic students and were recognized at a reception in the Parish Hall following the Mass. Among the winners was a mosaic painting created by fifth graders from St. Ann Catholic School in Naples, as well as five other individual artworks, with the honorees selected by representatives from the Diocesan Department of Catholic Education.
As part of the recognition, the artists received an enlarged framed and printed version of their winning artwork with a ribbon and holy cards. The cards are being distributed for use at each school and on the reverse includes the prayer: "Memorare to Our Lady, Mother of Catholic Schools."
Riley Morchesky, a seventh grader from St. Charles Borromeo Catholic School in Port Charlotte, said she was thrilled to have her artwork recognized. Her image is of Our Lady Queen of the Universe, floating above earth among the planets and stars.
"This is how I think of Mary," Riley said. "Watching over us."
The All Saints Devotional Project began in the 2020-2021 academic year with a focus upon St. Joseph, Protector of the Universal Church, and foster-father of Christ. This was appropriate as it was the Year of St. Joseph within the Universal Church.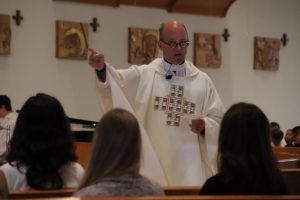 This recent devotion to the Blessed Virgin Mary included age-appropriate catechesis for students so that they can carry with them a life-long devotion to the Blessed Virgin.
To aid in getting the key devotional messages across to the students, junior catechists are selected at each school. The junior catechist team in each school is comprised of an eighth grade boy and girl who spearheaded the All Saints Devotional Project in the classroom. For the project, each week had new themes centered on the role of the Blessed Virgin. These themes were then presented by the junior catechists to their schoolmates at each grade level. These junior catechists are selected by their principal and teachers not only for their leadership qualities but also for their understanding of the Faith.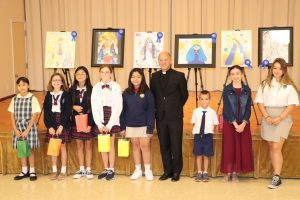 At its most basic elements, the All Saints Devotional Project is intended to build the Catholic identity of not just each Diocesan school, but of each student, family, teacher and faculty member.
Congratulations to the winning artists:
The 5th Grade Class at St. Ann Catholic School, Naples;
Daniela Gonzalez, 2nd Grader, St. Joseph Catholic School, Bradenton;
Alexandra Tran, 6th Grader, St. Martha Catholic School, Sarasota;
Riley Morchesky, 7th Grader, St. Charles Borromeo Catholic School, Port Charlotte;
Eleanora Del Sol, 8th Grader, Epiphany Cathedral School, Venice;
Matteo Filabrandt, 1st Grader, Epiphany Cathedral School, Venice.