An enthusiastic group of Faithful from Parishes in the Eastern Deanery shared their thoughts during the latest Diocesan Synod Listening Session on May 9, 2022, at St. Catherine Parish in Sebring.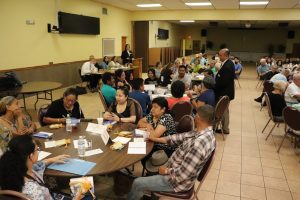 This was the ninth of 12 such Listening Sessions as part of the Diocesan Phase of the XVI Ordinary General Assembly of Bishops, "For a Synodal Church: Communion, Participation, and Mission," as requested by His Holiness Pope Francis.
There are just three Listening Session left: 6:30-8 p.m., Monday, May 16, St. Agnes Parish, 7775 Vanderbilt Beach Road, Naples; 6:30-8 pm., Monday, May 23, Our Lady Queen of Heaven Parish, 355 S. Bridge St., LaBelle (English and Spanish); and 10:30 a.m. to noon, Wednesday, May 25, Virtual Listening Session via Microsoft TEAMS.
To ensure everyone has a voice, the Faithful are encouraged to consider attending one of the final Listening Sessions, which started in February, with close to 1,000 having their voice heard in this process. Each Session has the goal of discerning the Word of God in Scripture and what those Words are saying to us while remembering the living Mission of the Church. The feedback has been both positive and passionate.
"For a Synodal Church: Communion, Participation, and Mission," is a two-year, worldwide effort for a deeper communion, fuller participation, and greater openness to fulfilling our mission in the world. Bishop Frank J. Dewane said the input of the Faithful is critical as the Universal Church contemplates the future. The Faithful continue to be encouraged to respond to the Synod with an open heart, mind and soul, the Bishop added.
Each session is being recorded to allow for proper documentation. The information gathered at the Diocesan Listening Sessions, as well as from direct or follow-up comments from the Faithful, will be synthesized into a document which will be shared with the U.S. Conference of Catholic Bishops, and ultimately the Vatican. Similar Listening Sessions are being held across the country and around the globe. The XVI Ordinary General Assembly of the Synod of Bishops will take place at the Vatican in October 2023.
The format of the Listening Sessions includes an opening prayer and remarks before lively table discussions. Each Session concentrates on questions inspired by 10 Synod themes supplied by the Vatican. Participants are also able to share additional comments privately by emailing synod@dioceseofvenice.org.
Listening Session locations were selected based of geography and population to cover as much of the Diocese as possible and several have been offered in both English and Spanish.
Those interested in attending any of the Sessions are encouraged to confirm their attendance by registering at www.dioceseofvenice.org. A link will be provided for those interested in participating in the Virtual Listening Session.
For any questions or comments regarding the Listening Sessions, please email synod@dioceseofvenice.org.