In the days before Hurricane Ian struck Southwest Florida, Catholic Charities, Diocese of Venice, Inc. was preparing for the worst, making plans to mobilize as soon as the storm clouds cleared.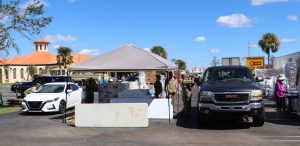 Since that time, Catholic Charities has set up 8 Hurricane Ian disaster response Points of Distribution (POD), helping to bring water, food and aid to those who need it. Arcadia, Cape Coral, Wauchula, Naples, Bonita Springs and North Port each have one location, and there are three in Fort Myers. Additional unofficial distribution points have opened as the need has increased in parts of Lee and Charlotte counties.
At the Elizabeth K. Galeana Center on Michigan Avenue in Fort Myers there has been a steady stream of cars coming through the parking lot since the Sunday after the storm.
"There is such great need here," explained Alex Olivares, District Director for Lee, Glades and Hendry counties. "The people who could least afford to lose power and subsequently lose work because of the storm, are really struggling. It is great that we can be here to help."
Within the first day, the on-hand supplies of emergency food and water were exhausted and then the Harry Chapin Food Bank in Fort Myers made an emergency delivery. Subsequently, FEMA trucks began arriving in Fort Myers and at the other PODs.
"We were getting low on supplies but now we can help everyone," Olivares said on Oct. 4, 2022. "Many people are hurting and there is no drinkable water anywhere."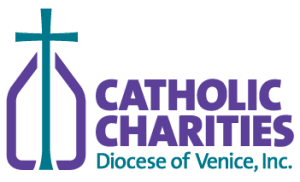 Nearly all of the Catholic Charities workers and volunteers helping to distribute emergency supplies in Fort Myers had some sort of damage from Ian. Few had power or drinkable water. One worker lost his home when storm surge came up the Caloosahatchee River into Fort Myers. Someone who has an Airbnb home in Ave Maria offered their place for the rest of October for free.
"They lost everything, so that is amazing," Olivares said. "He has six people who needed a place to stay, now they are out of the area of destruction and have the time to put their lives back together."
As each car arrived, shouts of "thank you" and "do you have ice" could be heard from the grateful people. "We helped a few hundred the first day and have doubled that since," Olivares said. "We will keep going as long as there is a need."
Jane Petry of Fort Myers arrived at the Galeana Center with her three children looking for water and food after a corner of their home was partially crushed by a tree. "The wind was terrible and then the neighbor's tree fell and hit the house. We were all in another part of the house and are okay. We are still there because we don't have the money to go anywhere, and we don't want to go to a shelter and leave our home alone. This food and water will help us get through the next few days. Thank you all for being here."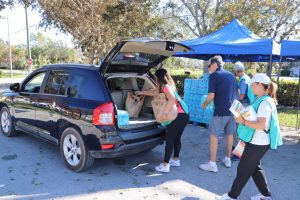 At the Centro Juan Diego Catholic Charities offices in Bonita Springs next to St. Leo the Great Parish, the scene was similar with a huge number of vehicles arriving early in the morning before the POD was operational and staffed.
Paulina Matias, who is part of the Catholic Charities Disaster Relief Services, said the need is great for the poorest in the community where damage was widespread. The impacts are being compounded by the loss of a businesses in the region, cutting off a livelihood for many.
Because of the losses and demand for help, Matias said there is a need for donations of food as well as gift cards to local stores.
"We are being proactive in helping people," Matias said as adults and youth from St. Leo the Great helped sort and bag for later distribution. "We are already providing counseling and telling people how to apply for all available local, state and federal assistance. Every little bit helps. As time goes on, the magnitude of the loss will become clearer. The stories of the people coming in and sharing what they lost and horrors that they saw. We are here for their immediate needs and for the long-term."
The scenes are being repeated at all of the distribution points. The need continues to grow as the length of time without power and nothing open for many miles put a stress on the poor. Even when power returned, drinking water is often unsafe. Access to gasoline and other necessities is making a very difficult situation harder for people.
At the POD at San Pedro Parish in North Port, the food pantry was emptied the first day before additional help arrived in the community inundated by 10-feet of river flooding. By Oct. 2, Florida National Guard members helped load vehicles, but they were replaced by volunteers after a few days.
Yuri Kaplan, of the Catholic Charities Disaster Response Logistics for the Diocese, scrambled from location to location using a forklift to unload pallets of supplies from trucks. "It is non-stop, but the work has to get done so people can get the help they need."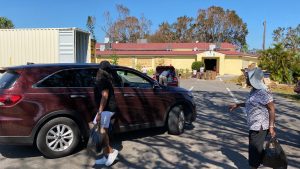 River flooding of low-lying areas and standing water has made travel difficult, especially when Interstate 75 was closed in North Port for more than a day and the U.S. 41 bridges in Punta Gorda for several days.
Catholic Charities Diocese of Venice CEO Eddie Gloria, who has been on the go nearly non-stop since before and after the storm, is coordinating deliveries of supplies from FEMA and Catholic Charities USA, as well as other agencies. After a few early misunderstandings, the flow became steady and more coordinated.
"We had trucks scheduled to arrive that didn't arrive, while others couldn't find our sites because phones and mapping systems were unavailable," Gloria explained how cellular service was spotty at best. "The first few days after a disaster are always the hardest. Catholic Charities was there on the ground and open after the storm and we will be there to serve the people within the Diocese of Venice."
Because of the long-term need, Bishop Frank J. Dewane and Catholic Charities sent out a plea to the faithful and Parishes across the Diocese to connect with a distribution point to help augment the incoming supplies. While food and water are in urgent need now, there is a steady supply coming in. The need is transitioning to other necessities such as canned goods, rice, beans, cereal, pasta, oil and, diapers. household cleaning supplies.
There is also going to be a great financial need, with assistance to help people pay for rent or utility bills while out of work and much more, so gift cards are being accepted to help replace lost clothes and other items.
Those interested in supporting can do so online at www.catholiccharitiesdov.org, or send a check to Hurricane Ian Recovery to: Catholic Charities, Diocese of Venice, Inc., 5824 Be Ridge Road PMB 409, Sarasota, FL 34233-5065. Or call 941-488-5581.