Staff Report – Florida Catholic
The Diocese of Venice mourns the loss of Father Robert J. Mongiello, former Pastor of St. Bernard Parish in Holmes Beach and Sacred Heart Parish in Punta Gorda. Father passed away Thursday, March 22 in Bradenton at the age of 68.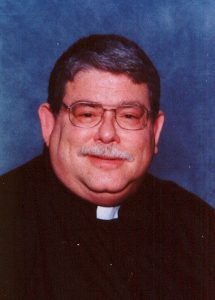 Father Mongiello was born July 16, 1949, in Mercer, Pa., to Vincent and Pauline (Hinds) Mongiello. He studied at Clarion State College and Edinboro State College, both in Pennsylvania, and for the priesthood at Pontifical College Josephenum in Columbus, Ohio, and at St. Vincent de Paul Regional Seminary in Boynton Beach.
Ordained to the priesthood in the Diocese of Venice on May 15, 1987 by Bishop John J. Nevins, Father first served as Parochial Vicar of St. Andrew Parish in Cape Coral and then at Sacred Heart Parish in Punta Gorda. He was elevated to Administrator of Sacred Heart Parish in 1995 and Pastor in 1997, a position he held until 2004. It was in 2004 that he was appointed as Pastor of St. Bernard Parish in Holmes Beach. He retired in 2010.
Father Robert had a great love for music and sang in various choirs in his early life. He is survived by his two sisters, Paula Magargee of Pardeeville, Wis., and Lisa Pettican of Johns Island, S.C., as well as nieces and nephews. Father was preceded in death by his parents.
A Mass of Christian Burial is to take place March 28 at The Beloved Disciple Catholic Church, Grove City, Pa. Burial will be in Findley Cemetery, Mercer. In addition, a Memorial Mass will be held on April 12, at 11 a.m., at St. Bernard Parish, 248 S. Harbor Drive, Holmes Beach.
Memorial contributions may be made to the Diocese of Venice Timothy Fund, which promotes vocations to the priesthood, or the American Diabetes Association.