Cards, rosaries, prayer cards and much more have flowed into the Diocese of Venice from Catholic schools around the country as they send their prayers and support following Hurricane Ian.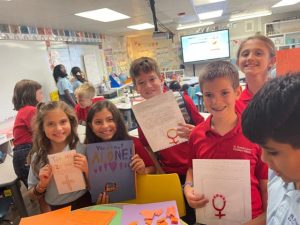 The most recent delivery of backpacks full of supplies came from Immaculate Conception Catholic School and Immaculata Catholic High School in Somerville, New Jersey. Officials from the schools, whose own communities were impacted by Hurricane Ida in 2021, saw a request for assistance through social media and offered to help.
Their contact in the Diocese of Venice was Siobhan Young, Principal at St. Martha Catholic School in Sarasota. Young explained to the New jersey school officials how only five of 15 Diocesan Catholic schools were spared damage and that many Catholic school faculty, staff and families suffered devastating impacts.
Colleen Paras, director of campus ministry for Immaculata High School, told Young that the Somerville school communities were impacted by Hurricane Ida. Their experience with Ida, combined with witnessing the images of catastrophe from Ian, made a lasting impression on the students. "Our students had so much exposure to it – how could we not give them an invitation to respond? We know how important it is for anybody and everybody to offer acts of love, so even though we are not there with them, this is our opportunity to pay back what we were given (after Ida)."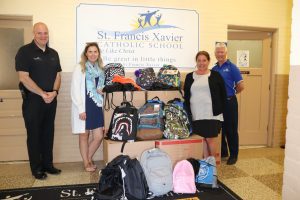 Fifteen boxes of backpacks, each with school supplies and a handmade card, were shipped to Young at St. Martha. The cost for shipping was generously underwritten by an alum of Immaculata.
Some 100 backpacks were delivered to Sarasota and then transferred to St. Francis Xavier Catholic School in Fort Myers on Nov. 8, 2022. The backpacks will be split amongst needy students and children in the St. Francis Xavier religious education program which also had many families overwhelmed by the hurricane.
"Our families have been hit hard," St. Francis Xavier Principal Gulley said, noting several faculty and staff also suffered. "Many lost everything, and even more had major damage. It has been very difficult for everyone." Gulley was overwhelmed by the generosity of the New Jersey schools.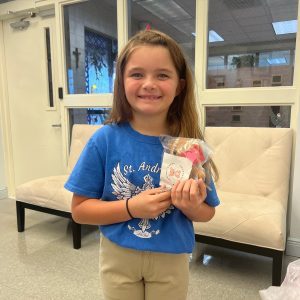 The items sent from Catholic schools across the country, including care packages, notes of encouragement, and school supplies, are going a long way to assist students and families who are struggling.
One item received was class artwork from St. Francis Xavier Catholic School in the Bronx, N.Y. The artwork includes a hand-rainbow, or a rainbow with the outline of the hands of each student displayed in a colorful rainbow. Gulley wrote back to the school in New York saying, "Thank you so much for sending your class artwork and including us in your prayers in the wake of Hurricane Ian. I can't tell you how amazing and overwhelmingly the outpouring of support has been."
Father John Belmonte, SJ, Diocesan Superintendent of Catholic Education, has been forwarding many expressions of support to St. Francis Xavier, as well as to St. Andrew Catholic School in Cape Coral and Bishop Verot Catholic High School in Fort Myers.
"The outpouring of generosity from Catholic schools all over the country is truly humbling," Father Belmonte said. "It's in moments of crisis and need like this, when we see our Catholic schools at their best. Students and teachers around the country have prayed and been very generous in helping hurricane victims."
The generosity first came from Catholic schools in the Diocese of Venice, in areas less hard hit by Ian. The initial focus was on immediate needs of the local community, and once addressed, and the extent of the devastation in Fort Myers and Cape Coral became clear, the outreach pivoted to helping the Catholic schools in Lee County.
Several truckloads of goods were shipped from Diocesan Catholic schools in Sarasota, Venice, Bradenton, Sebring, Ave Maria and Naples to the hardest hit areas in Lee and Charlotte counties.
St. Andrew Principal David Nelson said the gifts have ranged from prayers, cards for students, financial support to school supplies.
"They have been a huge blessing," Nelson said. "We still have families who are just trying to get through each day. We are finding supplies and materials which will assist them now and even a few months down the road. Knowing others around the country are wanting to support our school and families has meant so much to our community. While Southwest Florida has gone through a horrific event, we are blessed to be back in school and have the support of so many generous individuals and institutions."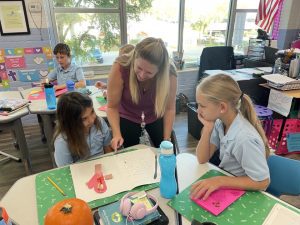 Bishop Verot Principal Suzie O'Grady said each new arrival of a donation, whether cards, school supplies, generators, or other items, helps in the healing process.
"Knowing so many people are praying for us has a deeply profound meaning as we continue to recover from the devastation," O'Grady said.
Father Belmonte added that many other schools across the country embarked upon various fundraising efforts, such as school dress-down days or other activities, and have sent checks to the Diocese to be used in the recovery efforts from Ian.
"Truly wonderful to see this far-reaching response," Father said. "These Catholic schools recognized a need and did not hesitate to act to help their brothers and sisters in Christ."