Beautiful weather accompanied a day filled with food, fun, entertainment and lots of smiling faces for the 19th Annual Hispanic Festival at St. Jude Parish in Sarasota.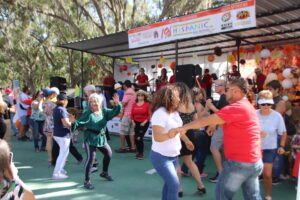 An estimated 10,000 people gathered at St. Jude for this event on Nov. 4, 2023, a celebration of both the individual nations and the unified culture of a diverse Parish.
Held annually in early November this annual Festival is the oldest one in Sarasota County to feature authentic Latino food, music and culture. The day includes musical performances and ethnic dancers as well as food from many nations. Throughout the Parish grounds were tents full of a wide variety of foods that left many mouths watering. People attend the event annually from as far away as Naples and Clearwater. It has become a much anticipated and beloved event for the ethnically diverse Sarasota Parish.
The celebration of more than a dozen countries lasted from morning until sunset. Throughout the day, there were performances, offering folk and modern music, and dance. Many proudly wore clothing representing their country of origin.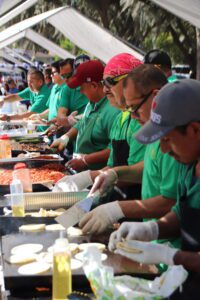 Martha Perez, 11, enjoyed trying a variety of foods, including papas rellenas from the Cuban food tent, which is a meat-filled potato ball. The highlight of the day for the young girl was the various dancers who wore colorful dresses. "It was so wonderful to see them dancing to such beautiful songs."
The Hispanic Festival opened with prayer, followed by a "Parade of Flags" as each country represented at the festival was announced, and the respective flags brought forth cheers.
As a bilingual Parish, the members of both the English and the Spanish speaking congregation at St. Jude participated and volunteered to staff the booths.
Whether it was the food, the music, the dancing, or the joy of being around so many happy people, the Hispanic Festival was a success by any measure.
The proceeds of the Hispanic Festival go to support the various outreach efforts of St. Jude Parish, including a food pantry and other programs which help countless families throughout the year.