Grandparents, a vital link to the past – most importantly to the Faith – were welcomed to St. John Neumann Catholic High School in Naples for a special celebration.
A Grandparents Day celebration on Nov. 3, 2023; opened with a Mass celebrated by Bishop Frank J. Dewane, as students sat with their grandparents in the Our Lady of the Angels Chapel. A luncheon followed in the Student Life Center.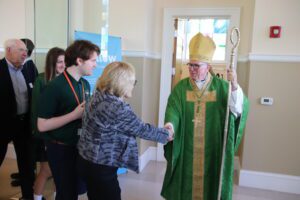 During the Mass, Bishop Dewane spoke about the wisdom and knowledge of the faith that older people can share with the young. The Bishop prayed for all grandparents, those present and those who were unable to attend the Mass; but also for those who have gone before us, leaving a void in the lives of their grandchildren.
The Bishop encouraged the grandparents to impart their wisdom by passing along their stories of the family and faith, building the traditions upon which their grandchildren can now stand.
"Grandparents, you are to be the messengers of the word and tradition of the faith life within your family," Bishop Dewane said. "Leave your impressions upon the family. Speak to them, show them, demonstrate to them, in a spiritual way, who you are."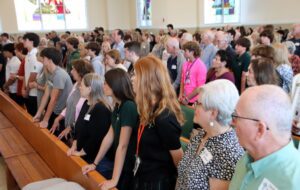 Bishop Dewane challenged the grandchildren to take up the traditions learned from their grandparents – the good, the strength, and the knowledge they have from life's experience. "They will tell you the truth. It is my prayer that the generations go forward sharing the wisdom they have, the grace they have been given by the Lord, and the strength that is our Catholic faith."
Several grandparents, and their grandchildren, complimented the Bishop for speaking so clearly about their respective roles in the Church – one as mentor and example, the other as respectful listener and observer.
Following the Mass, one grandparent noted that she is proud her grandchildren attend a Catholic High School. "My grandchildren are getting the best education. I tried to pass the faith along to my own children and grandchildren. It is rewarding to see that lesson is being passed down to my grandchildren and enhanced here at St. John Neumann."