Three distinctive events took place during February to help support the programs of Catholic Charities, Diocese of Venice Inc.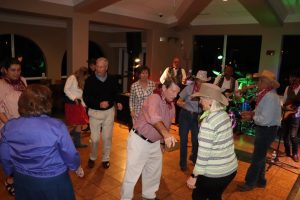 First up on Feb. 15 was the always fun Boots and Bandannas at Kingsway Golf and Country Club in Lake Suzy. This western-themed evening includes plenty of cowboy hats, boots and lots of bandannas. This was 18th year for this event, which was held to support of the Catholic Charities programs in DeSoto County including Casa San Juan Bosco farmworker housing, St. John Paul II Villas senior housing and much more. Father Jerome Carosella, Pastor of Our Lady of Mercy Parish on Boca Grande and who serves on the Catholic Charities Board, provided the invocation. There were live and silent auctions and The Kollections performed toe-tapping country and western music that brought many to the dance floor.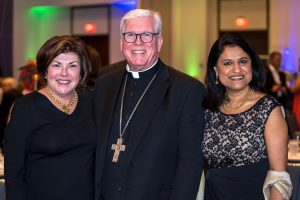 The following weekend was the annual Mardis Gras Madness at Art Ovation in Sarasota. The evening reflected its namesake as many guests wore colorful masks and jewelry. The proceeds went to Bethesda House, a comprehensive program in Sarasota which supports people living with HIV/AIDS.
Next up was the annual Our Mother's House Wine Tasting and Dinner Dance on Feb. 27 at the Venice Community Center. The event included live and silent auctions, music and fun all to help support the Catholic Charities program which has been providing housing to homeless mothers and their children since 1987. The mission of the program is to offer single mothers and their children a safe and secure environment in which to achieve increased self-sufficiency through education, vocational training, and personal growth.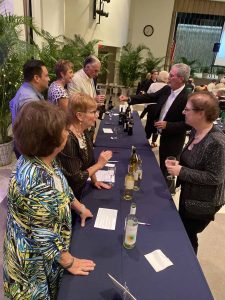 The highlight of the evening came when a former resident, Joanna, who lived at Our Mother's House from 2009-2011, shared her story. She credited Our Mother's House for helping to overcome great personal obstacles to now having a better life, raising her daughter while working as a surgical assistant. Following a standing ovation, the lively "Gift from the Heart" portion of the evening generated excitement and raised lots of money for the program.
To learn more or to support these and other programs of Catholic Charities Diocese of Venice Inc, please visit www.catholiccharitiesdov.org.