For the past 25 years Sister Frances Lolar, Religious Sister of Mercy, has been a steady and commanding presence at Epiphany Cathedral in Venice. The Cathedral Director of Religious Education (DRE) since 1994, Sister Frances will be retiring in the coming months leaving behind a lasting legacy.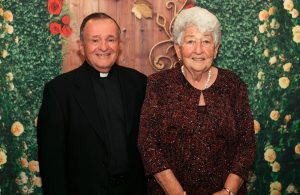 That legacy was recognized with her being bestowed as the 2020 Shining Star Lifetime Achievement Award Recipient during the Feb. 15 Epiphany Gala at Plantation Golf and Country Club. The event benefited Epiphany Cathedral Catholic School; a place held dear to the heart of Sister Frances.
In announcing the award, it was noted that Sister Frances is a tireless presence within Epiphany Parish while helping it live out its mission to be the heart and hands of Christ. She has deeply influenced and significantly contributed to the mission and vision of Catholic education – even serving for a time as acting-Principal. "She has faithfully demonstrated a lifetime of servant leadership through the giving of her time, talent and treasure."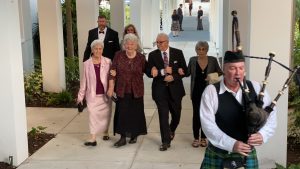 Born and raised in the farming country of County Laois, Ireland, it was appropriate that a bagpiper escorted her into the Gala.  Hearing the call to a religious life while still in high school, Sister Frances professed her vows on September 8, 1957 in Bally Mahon, as a Sister of Mercy.
In 1960, she moved to the U.S. to become a Catholic school teacher in Columbia, Mo., then later she went on to a position as a Catholic principal in Lake Worth, Fla. It was in 1994 when she was appointed DRE at the Cathedral, a position that covers a wide range of responsibilities. Her work includes coordinating the teaching of the Sacraments, especially Confirmation, First Confession and First Communion, thus providing her opportunities to get to know the parents as well as students, dozens each year. Beyond this, she also coordinates the Parish Rite of Christian Initiation for Adults (RCIA) formation classes, which bring new Catholics into the Church. Adults, she says, never finish learning about their faith.
Everyone attending the Gala knew that Sister Frances, a quiet, humble and unassuming woman was a deserving recipient of the Shining Star award. They also know she is much more than a DRE; she is someone who lives her life of faith to its fullest in all her words and actions, an example for all to follow. Congratulations Sister Frances!