The new Cardinal Mooney Catholic High School press box and bleachers have been officially named for long-time Athletic Director, Bill Donivan, during a blessing and dedication ceremony of the Athletic Complex Feb. 21.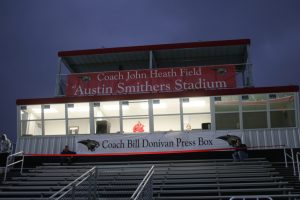 Donivan spent 40 years at Cardinal Mooney, first as a coach and then athletic director and coached a number of teams before taking over as director of athletics. During his time at Mooney, Donivan coached boy's basketball for 21 years, started and coached the track and field program, coached cross country and JV football and did so much more to promote athletics at the school.
"We are excited to unveil the new name of the press box to the Carinal Mooney community," said CMHS Athletic Director Larry Antonucci. "Honoring this individual with the naming of the press box was a foregone conclusion due to the vital role this person played in having the athletic complex come to fruition."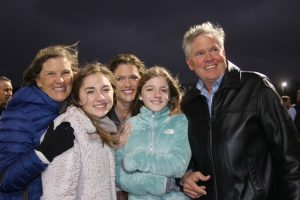 The blessing was led by Mooney Chaplain Father Eric Scanlan on a cold and windy night. Present for the blessing were Donivan and members of his family, as well as students, faculty and staff and alumni.
The new press box and stands, now centered on the 50-yard line, are part of the comprehensive renovation of the Cardinal Mooney Athletic Complex that also includes a new regulation track and turf field. A second story viewing balcony of the new press box allows unobstructed views of the field for video.
When the new turf field was installed this summer, the field itself was moved north by 15-feet, thus allowing room for a regulation track but causing the old stands to be off center. The new bright red bleachers and press box now stand prominently on the 50-yard line allowing unobstructed views. The regulation track is also complete and ready for the Cougar's track and field season. The renovations to the fields, press box and stands are part of the ongoing Mooney IGNITE campaign and has included updates to the media center and classroom.
Cardinal Mooney Catholic High School is currently celebrating its 60th anniversary. For more information about Cardinal Mooney www.cmhs-sarasota.org.