Hundreds gathered to support the many programs of Catholic Charities, Diocese of Venice, Inc. for the annual Sarasota Charity Ball, Feb. 5, 2022, at the Ritz Carlton.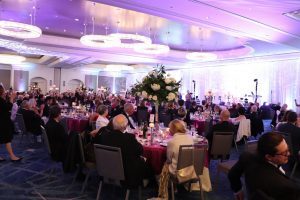 Appropriately, the theme for the Ball was "Together Again," reflecting the joy everyone had at being able to gather for the first time in two years. The elegant evening included fine dining, lots of dancing, upbeat music, and a spirited live auction with the "Gift from the Heart" bringing in many enthusiastic bidders. There was also entertainment from Dynasty Dancers, who performed before dinner was served.
The beneficiaries of the evening are the Catholic Charities programs in Sarasota, Manatee, Highlands, Glades, DeSoto and Hardee counties which include Our Mother's House, Bethesda House, St. Martha Early Learning Center, Casa San Juan Bosco farmworker housing and much more.
Bishop Frank J. Dewane expressed his gratitude for the support of all present for the work of Catholic Charities, not just their presence during the Ball, but during these past two years when many stepped forward to support their brothers and sisters in need who were severely impacted by the global pandemic.
"Know that the funds raised this evening will be used to help individuals who have far less of an opportunity than many of us do," Bishop Dewane said. "It goes out and makes a difference to so many people from the very young to the very old."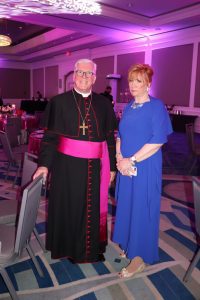 The Bishop also recognized the hard work of the staff and volunteers of Catholic Charities for their dedication to their cause. Also honored was the Ball committee and specifically Committee Chair Bridget Spiess, who helped organize the elegant evening.
Eduardo Gloria, Interim CEO of Catholic Charities, said the organization is much more than a food pantry, or a helping hand to those in need; the work Catholic Charities does is to live out the call of the Lord to "love your neighbor as yourself" (Matt 22:39).
"We do this with compassion, giving hope to many who turn to us in their time of greatest need," Gloria said. "Ideally, our goal is to help once and for that person or family to never have to come back. That doesn't always happen, but we have many success stories."
Among stories shared was that of a young man who received tutoring help through an afterschool program and went from being a failing student then to someone who tutors other students now and is a recent university graduate who plans to become a lawyer.
Also sharing his story was a young man who is in high school whose family has struggled being homeless in recent years. After living in a tent for nearly two years, this young man shared the experience of joy when Catholic Charities came forward and offered emergency housing for his family. "It means so much to all of us."
If you would like to support the programs of Catholic Charities, Diocese of Venice, Inc., please visit www.catholiccharitiesdov.org.