Appointments
After consultation, Bishop Frank J. Dewane announced the following appointments:
Father Thobias Sabariar, M.o.C., relieved of his duties as Parochial Vicar of St. Katharine Drexel Parish effective Jan. 30, 2022, and thus, has returned to his Religious Community.
Father Antony Lukka, relieved of his duties as Parochial Vicar of Our Lady of Lourdes Parish effective Jan. 30, 2022, and thus, has returned to his Diocese of Kanjirapally, India.
Cheer Team takes silver at States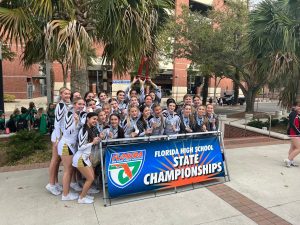 The Competitive Cheer Team at Bishop Verot Catholic High School in Fort Myers took second place at the Class 1A Extra Large Varsity State Championships on Feb. 2, 2022, at University of Florida Exactech Arena at the Stephen C. O'Connell Center in Gainesville. Way to go!
Parish hosts fun for high schoolers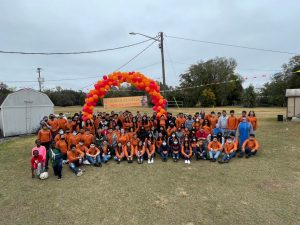 The St. Michael Parish 2022 High School Youth Festival gathered more than 80 students in Wauchula on Feb. 5, 2022. The theme this year was "We are made to be great!" The day consisted of three talks given by Greg Stearns, an outdoor games tournament, prayer and quiet time with our Lord, the opportunity for confessions and Holy Mass. It was a beautiful day of fellowship.
Time running out to apply for college scholarships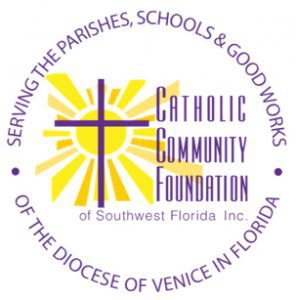 The deadline to apply for Catholic Community Foundation of Southwest Florida 2022-23 Scholarship will close on March 1, 2022. There are six different competitive scholarships being offered. Some of the scholarships are limited in who is eligible based on the schools they attend, where they live or what career path they plan to take. During the past eight years, the Catholic Community Foundation has awarded more than $425,000 in scholarships to students attending universities, colleges and vocational programs. To find out which Catholic Community Foundation scholarship you qualify for, please visit www.ccfdioceseofvenice.org/scholarships.
High school artists shine at local Art Fest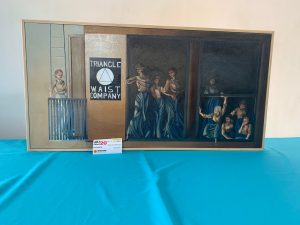 Bishop Verot Catholic High School student Cornelia Ovren won BEST OF SHOW for her acrylic painting of The Triangle Waist Company at the Fort Myers Art Fest on Feb. 6, 2022. A team from Verot also won The Golisano Children's Hospital Sunny and Sparkle award for their clever execution of Chalk Block's theme: "Choose to Include" in the chalk art competitions. In the same competition, another Verot group took honorable mention for their chalk block "Come Together" tribute.
Several teams take District titles
Several Diocesan Catholic high school sports teams won district titles recently. The Cardinal Mooney Catholic High School girls' basketball team in Sarasota took the District title Feb. 4, 2022. The Mooney girls' soccer team earned their own District title Feb. 3. The St. John Neumann Catholic High School girls' basketball team in Naples also took their District title Feb. 4.  Both boys' and girls' soccer teams at Bishop Verot Catholic High School in Fort Myers captured District titles Feb. 2.
50th Anniversary Sarasota Prayer Breakfast March 17
Friends dedicated to furthering community prayer are encouraged to celebrate the 50th anniversary of the Sarasota Prayer Breakfast, March 17, at the Sarasota Hyatt Regency. The faithful of Sarasota will come together as a community to pray for our city, state and nation. The gathering is modeled after the annual National Prayer Breakfast held in our nation's capital and attended by America's legislative leaders. Tickets may be purchased online at www.SarasotaPrayerBreakfast.com. For additional information please e-mail Info@SarasotaPrayerBreakfast.com or call 941-350-6075.