The 12th Annual Veterans Day Catholic Mass made a successful return Sarasota National Cemetery as Bishop Frank J. Dewane prayed for those currently serving in the U.S. Armed Forces, those who have died, and their families.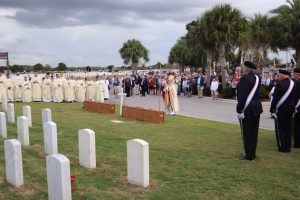 More than 500 people attended the Mass which was celebrated in 2020 at Epiphany Cathedral in Venice out of caution because of the global pandemic and a threat from a hurricane.
Bishop Dewane thanked the veterans for their service in defense of freedom, enjoyed to this day thanks to those who served and sacrificed throughout this nation's history and those who will continue to answer the call in the future.
"We come here to say, 'Thank you!' to all veterans in a very particular way," the Bishop said. "We remember them in our prayers and in the intentions of this Mass. We stand up and we speak out for liberties and the freedom that we enjoy; but we must remember at all times those who have made it all possible. You were called to serve that the rest of us may have a more secure a safer life."
Reflecting on the sacrifice of veterans, some of whom are elderly, some young and still some actively serving in posts around the world, Bishop Dewane acknowledged that the lasting impact of their service – be it physical or mental injury – is something that cannot be ignored and must be supported. He also recognized the sacrifice of military family members who are left behind and offered prayers for their comfort.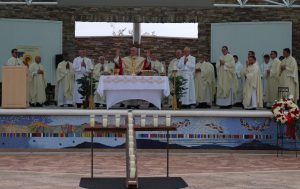 Citing from a statement by St. John Paul II, the Bishop said the brave men and women who have served our country upholding the dignity of human life, of a freedom, of liberty – transforms them somehow into soldiers for Christ.
"Our veterans wear their faith and hearts on their sleeves," Bishop Dewane continued. "Let us in acknowledging the valiant fight they have given our country… Pray each and every day that they always know that, with God, all of us will be victorious and we will have eternal life."
Prior to the opening of the Mass, all veterans – active and retired – were asked to stand and be recognized. This was followed by the singing of the National Anthem.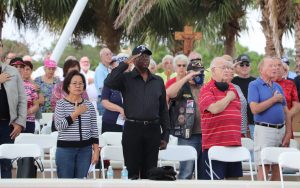 The Sarasota National Cemetery celebration concluded with a procession, escorted by the Knights of Columbus Color Corps, to the nearby graves as those in attendance sang "God Bless America." Priests, Deacons, and the Knights of Columbus Color Corps and all present, gathered in silent prayer before "Taps" was played on a bugle. Bishop Dewane also blessed the area with Holy Water.
U.S. Army Lt. Col. (Ret.) Scott Predmore, a 20-year veteran, expressed his gratitude for the Mass. "This means a great deal to me and really to all veterans. We served our country and would gladly do it again, but it's a service that is not always appreciated," Predmore said. "Having faith while serving in combat was something which helped me to get through some difficult times."
There are about 25,000 veterans and eligible family members currently interred in the National Cemetery and more than 19 million military veterans in the United States.
The Diocese of Venice coordinates the Catholic Mass at the National Cemetery with the support of the Knights of Columbus. One of the graves is that of Father Robert G. Tierney, a former assistant at St. Joseph Parish in Bradenton, who served in the U.S. Navy. Father Tierney died in 2006 and was one of the first people buried in the National Cemetery.