Whether there are 200 people, or two, the impact of the peaceful 40 Days for Life prayer vigil seeking an end to abortion in the U.S. is meaningful and real.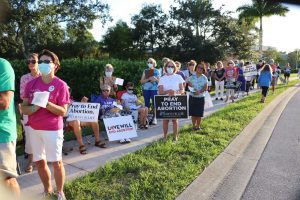 This was the message delivered by Shawn Carney, 40 Days for Life co-founder and President, when he appeared at an evening vigil in Fort Myers on Sept. 22, 2020, and then in Sarasota on Sept. 23, 2020, the first day of 40 Days Fall Campaign. It was an honor to have Carney present in the Diocese as he helped start what became 40 Days for Life in 2004 while still in college in Texas. From a local prayer vigil, the fall and spring campaigns have included more than one million people in 1,000 cities in 66 countries resulting in the closure of 107 abortion facilities.
"Your peaceful, joyful, prayerful presence out here is a simple, effective and beautiful reminder that there is hope for every woman who drives in here," Carney said of the Planned Parenthood abortion facility. "You get to come out here and be that witness… You are a beautiful witness that stands in opposition to the sterile lobby just a few yards away. You are the light versus the darkness; the hope versus the hopeless; the joy versus despair. No one coming to that facility finds joy."
A group of more than 200 gathered in front of the Planned Parenthood at 6418 Commerce Park Drive, Fort Myers, for the opening vigil, a number made even more impressive because it occurred during a global pandemic.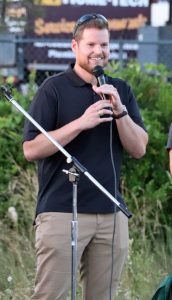 Carney was unsure what the response would be for 40 Days for Life in the wake of the pandemic and social unrest. He need not have worried, because a record 588 cities will have prayer vigils this fall. Since the first nationwide 40 Days for Life in 2007, of which the Diocese of Venice-led vigil in Sarasota was the second to join. During that time, 17,226 babies are confirmed to have been saved, Carney said.
Fort Myers 40 Days Fall Campaign organizers Rick and Paula Hellenbrand have been leading the vigil for the past 10 years and noted that two people cannot do it alone, that it takes a community to have success.
"As one of those women who came to one of these facilities, as my parents drove me to my abortion, no one was there," an emotional Paula Hellenbrand said. "We have worked hard and overcome many obstacles to make sure we never have an empty sidewalk again as long as they are doing abortions inside this place. Thank you for being out here."
Second time vigil participant April Couch of Resurrection Parish in Fort Myers said she was moved by the powerful testimony of the Hellenbrands, Carney and the other speakers and planned to share the message to her friends.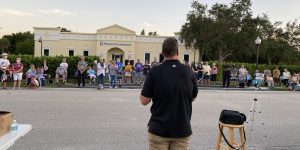 "When I first came out here last year, I thought it would be hard," Couch explained. "In reality, it was very rewarding knowing that I was doing what the Lord wants of all of us, to stand up for the unborn because they cannot defend themselves against the injustice of abortion."
Opening prayer for the vigil was offered by Father Ananda Reddy, Parochial Vicar at St. Andrew Parish in Cape Coral, while the closing prayer was offered by Father Saji Ellickal Joseph, M.C.B.S., Parochial Vicar at St. John XXIII Parish in Fort Myers.
Other speakers included recent transplant to Southwest Florida Jim Havens, of Station of the Cross Catholic Radio Network and iCatholic Radio; Gabrielle Gabbard, a teen from Collier County who made headlines when she tried to start a Pro-Life club at her Naples high school; as well representatives from Community Pregnancy Clinics Inc. (CPCI) which had their mobile medical clinic present while the Sarasota opening vigil with Carney took place at the clinic there.

The Fort Myers campaign is 9 a.m.-6 p.m. Monday through Saturday, 6418 Commerce Park Drive. If you have questions, contact Paula and Rick at 40DaysforLifeFM@gmail.com.
The Sarasota campaign is 7 a.m.-7 p.m. daily, 736 Central Ave. If you have any questions, contact organizer Rich Owens at 40DFLSarasota@gmail.com.
The 40 Days for Life Fall Campaign continues in Fort Myers and Sarasota through Nov. 1, 2020. Many Parishes in the Diocese of Venice have designated days during which the faithful participate, however participants are welcome at any time. No registration is required to participate, but you can do so by visiting https://www.40daysforlife.com/.