The grades 5-9 religious education/faith formation classes at St. Martha Parish in Sarasota have been using some of their classroom time to give back.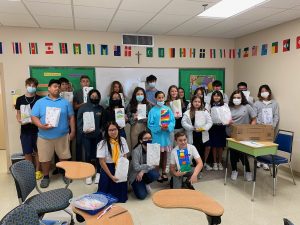 Just in time for Easter, the youth made more than 100 lunch bags that were distributed to the homeless in the area. This outreach is part of a new service club which has been included in the ongoing religious education classes.
Patricia Sileo, Director of Religious Education at St. Martha, said one Sunday a month is committed to the service club which was created in the wake of the pandemic as both the students and teachers became more acutely aware of the need to give back within the community.
"We dedicate one class a month to learn about Catholic Social Teachings and do a project that coincides with the teaching each month," Sileo explained.
For example, on April 3, 2022, as part of a "Hearty Meals Project," the students happily went to work as they first decorated the bags and then packed them with various donated foodstuffs. Each lunch bag had its own colorful and unique design and had a sticker which read: "Made with Love & Care by the St. Martha Service Club." These decorated lunch bags were given to local outreach programs that minister to the homeless, including Caritas, Catholic Charities and more.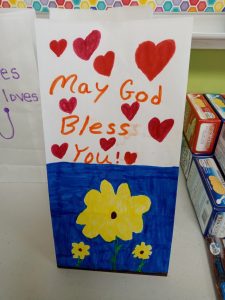 Previously, the youth worked on other service projects. These included supporting the Eucharistic Ministers who visit the hospital by making get well cards for the sick they visit. The club also colored placemats (and laminated them) for the Knights of Columbus Thanksgiving Dinner which is offered annually for those in need or alone.
Their Christmas service project included making Christmas cards and ornaments for the elderly that live in Casa Santa Marta, a senior housing facility run by the Diocese of Venice. Still another project included writing prayer cards and creating rosary boxes for the children from the Parish who were making their First Holy Communion.
Sileo explained that among the special projects that received the most enthusiasm was making blessing bags. These are bags with prayers and words of encouragement that the students were able to create and keep for themselves, or in their parents' vehicle, so the youth would be able to distribute bags if they came across someone in need.
The projects are supported by the parishioners at St. Martha, providing many of the donations of the needed food and supplies. Sileo said the generosity has been overwhelming. The "Hearty Meals Project" response enabled the youth to not only fill the lunch bags for the homeless, but also stock two different food pantries while also giving additional financial support.
Sileo said the enthusiasm of the young students in response to the new service club has been overwhelmingly positive as it gives them the opportunity to make immediate and positive impacts on their Parish and in the community in which they live.