Priest dies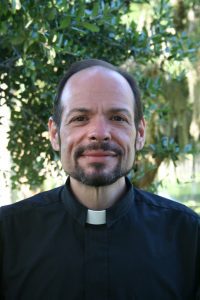 Father Russell Ruggiero died at his home in Lakewood Ranch on April 18, 2022, at the age of 59. Father Ruggiero was ordained to the priesthood on May 29, 2010, at Epiphany Cathedral in Venice. He served as Parochial Vicar at Ss. Peter and Paul the Apostles Parish in Bradenton, San Marco Parish in Marco Island, and St. John XXIII Parish in Fort Myers. Father served as Administrator of St. Elizabeth Seton Parish from Jan. 8, 2017 to Oct. 19, 2018 before taking a leave of absence. A Mass of Christian Burial was celebrated on April 25 at Ss. Peter and Paul the Apostles Parish. Father Mark Heuberger, Pastor of Ss. Peter and Paul was the main celebrant with Bishop Frank J. Dewane in attendance. Please pray for the repose of the soul of Father Ruggiero and the consolation of his family. May his soul and the souls of all the faithful departed through the mercy of God rest in eternal peace.
 Retreat improves communication for couples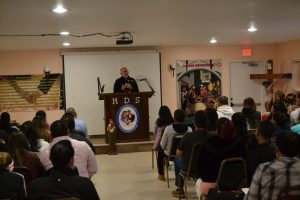 A MDS (Matrimonio, Diálogo y Seguimiento – Matrimony, Dialogue and Follow-Up) Wedding Retreat took place at Campo San Jose Retreat Center in Lake Placid on April 22-24, 2022. MDS, a Catholic-based Spanish-language enrichment program directed to all married couples which is designed to improve communication in the conjugal life for the couple. Participating couples are paired with mentor couples to help them daily live out their Sacramental Marriage, accompanied by Jesus. These intensive retreats are offered several times a year and the couples and their mentors have follow-up contact to ensure the lessons have a lasting impact. Father Claudio Stewart, Diocesan Director of the Hispanic Apostolate addressed the retreatants offering encouragement.
Final Synod on Synodality Listening Sessions in May
There are only four more opportunities to take part in the Diocesan Phase for the XVI Ordinary General Assembly of Bishops, "For a Synodal Church: Communion, Participation, and Mission," as requested by His Holiness Pope Francis. Everyone is invited as the Diocese of Venice is holding various sessions for an evening of listening with the goal to discern the Word of God in Scripture, what those Words are saying to us while remembering the living Mission of the Church. To date, eight in-person listening sessions have been completed, and they include:
(Completed) Feb. 9, St. Thomas More Parish, Sarasota (Eng.);
(Completed) Feb. 16, Epiphany Cathedral, Venice (Eng./Sp.);
(Completed) Feb. 22, Ss. Peter and Paul the Apostles Parish, Bradenton (Eng./Sp.);
(Completed) March 3, St. Andrew Parish, Cape Coral (Eng./Sp.);
(Completed) March 14, St. John XXIII Parish, Fort Myers (Eng.);
(Completed) March 16, Sacred Heart Parish, Punta Gorda (Eng.);
(Completed) March 24; St. Elizabeth Seton Parish, 5225, Golden Gate Parkway, Naples (Eng./Sp.).
(Completed) March 28, St. John the Evangelist Parish, 625 111th Ave. N., Naples (Eng.).
Upcoming in-person Sessions will take place from 6:30 p.m.- 8 p.m. at the following locations:
Monday, May 9, St. Catherine Parish, 820 Hickory St., Sebring (Eng./Sp);
Monday, May 16, St. Agnes Parish, 7775 Vanderbilt Beach Road, Naples (Eng.);
Monday, May 23, Our Lady Queen of Heaven Parish, 355 S. Bridge St., LaBelle (Eng./Sp);
Please note, there will also be a Virtual Session from 10:30 a.m. to noon, Wednesday, May 25. Those interested in attending any of the sessions are encouraged to confirm their attendance by registering at www.dioceseofvenice.org. For any questions or comments regarding the listening sessions, please email synod@dioceseofvenice.org.
Robotics team prepares for competition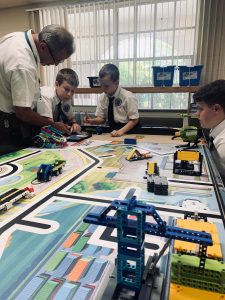 The St. Charles Borromeo Catholic School Robotics team from Port Charlotte has been preparing for their very first competition which takes place on May 14 in Fort Myers. These students have been working extremely hard and coming up with different strategies for this upcoming competition against other teams from throughout the Diocese. The students are working hard to build a strong team while developing skills in programming, modeling and design, all needed to ensure a successful competition.
Students vote for their favorite books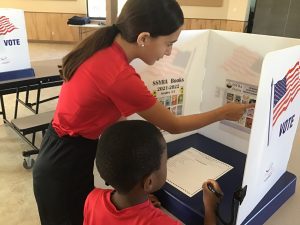 With the assistance from members of the St. Elizabeth Seton Catholic School National Junior Honors Society, students returned from their Easter break on April 19, 2022, to vote on their favorite Sunshine State books. They did this by using real voting machines. Students from all levels, pre-kindergarten-3 through eighth grade, had the opportunity to vote. The machines were programmed to allow the students to choose from the different books. Everyone had fun using the machines while also learning about books and the voting process.
Love of baseball shared by students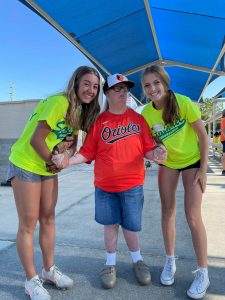 Cardinal Mooney Catholic High School students in Sarasota continued its 10-year partnership with the Miracle League of Manasota by continuing the service outreach on April 23, 2022. The goal of the Miracle League is to provide opportunities for differently-abled children and adults to play baseball. Members of the Mooney club volunteer each weekend, giving back by teaching various skills and being vocal cheerleaders for those who take part in the program.
House Olympics lots of fun in Naples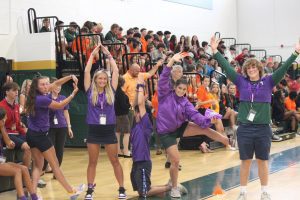 The annual House Olympics at St. John Neumann Catholic High School in Naples took place on April 22, 2022, with Raley House taking the victory. Teams from each house participate in a variety of fun and games competing for points and ultimately a victory over their fellow competitors. Neumann has four "Houses" which serve as a form of student government, dividing students into different teams. Throughout the year these teams earn points for success in various academic and athletic individual and team competitions. The House Olympics is just one of the latest competitions. The championship team will be announced at the end of the year. This system was implemented to help younger students become more familiar with Neumann as freshman and through the years the older students serve as mentors to their House members.
New Pro-Life Documentary
"The Matter of Life," a new Pro-Life documentary, will be in theaters for a limited engagement on Monday, May 16 and Tuesday, May 17 only. The documentary takes you on a journey to unravel the complexities of the abortion debate by addressing the issue through science, philosophy, history and powerful personal stories with testimonies from some of the best pro-life national speakers such as Scott Klusendorf, Stephanie Gray Connors and Dr. Anthony Levatino, a former abortionist. The film answers hard questions and provides hope for the future. With the impending Supreme Court ruling on the Dobbs case (a review of the Alabama abortion law and could ultimately overturn Roe v. Wade – www.prayfordobbs.com), now is the time to learn all you can about this important issue. See www.thematteroflife.org for a trailer, theater locations and more. Questions? Contact Jeanne Berdeaux, Berdeaux@dioceseofvenice.org or 941-441-1101.
Treasures of the Church coming to Diocese
An Exposition of Sacred Relics will take place in several locations within the Diocese of Venice and elsewhere in Florida in the month of May. Each evening begins with a presentation and teaching on relics which features the catechetical and spiritual basis for the "Walk with the Saints" where over 150 relics will be displayed. In the Diocese of Venice, the following dates and locations are available for all to attend: May 9, Incarnation Parish, 2929 Bee Ridge Road, Sarasota; May 10, St. Katharine Drexel Parish, 1922 SW 20th Ave., Cape Coral; May 11, Ave Maria Parish, 5088 Annunciation Circle, Ave Maria; May 12, St. Elizabeth Seton Parish, 5225 Golden Gate Parkway, Naples. Each exposition will begin at 6:30 p.m. and there is no fee to attend.
9th Annual Marian Eucharistic Conference in May
All are invited to the 9th Annual Marian Eucharistic Conference May 13 to May 15 at Ave Maria University, Ave Maria. The theme is "Do Whatever He Tells You." Featured speakers will include Auxiliary Bishop Joseph Coffey, of the Archdiocese of the Military Services, Father Larry Richards, Father Rick Martignetti, Deacon Dr. Mark Miravalle, EWTN's Steve Ray, and Johnnette Benkovic plus music by Martin Doman and the AMU Band. In addition to the talks, the Conference will include a Rosary Walk, Holy Mass, Benediction, and more. The cost is $180 per person and includes lodging, meals and conference fee for the weekend. For more information visit www.aveconferences.com,call 239-348-4725 or email aveconferences@gmail.com.