Principal's Corner – Cardinal Mooney Catholic High School
Ben Hopper, Principal Cardinal Mooney Catholic High School
Sarasota –
In front of Cardinal Mooney Catholic High School, there is a sign that reads – "You belong here!" This simple yet captivating phrase is an invitation for students to become part of the Mooney community.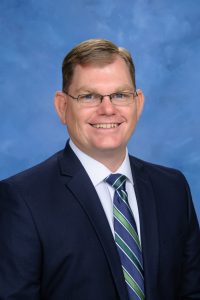 From humble beginnings in 1959 in the Beall Plaza in downtown Sarasota to the evolving vibrant campus at its location today, Cardinal Mooney has provided a college-preparatory education centered on Gospel values for thousands of students over the past sixty years. Embracing the uniqueness of each student entrusted to our care, we provide an educational experience which culminates with graduates who are committed life-long learners ready for college and active examples of their Catholic faith ready for service to the community.
During the journey through Mooney, students encounter teachers, advisors, coaches, and counselors who help them to realize their God-given potential and to pursue their passions. One of these individuals is Ann LaFemina, the school's college advisor.  Navigating the college application and admission process is not an easy task.
LaFemina assists the seniors and their families through this daunting challenge by personalizing the college and scholarship application process, hosting more than seventy colleges and universities at the college fair and for admission visits, and taking students on a 3-day bus tour of 11 colleges in Florida.
According to Sarah Averbeck, a 2019 Mooney graduate, "Mrs. LaFemina is a lifesaver. I would not be where I am today without her. Her endless support, kindness, and love for her job does not go unnoticed. She wants to see all of her students succeed in life, therefore she goes above and beyond for the community with which she works."
Sarah and the other 103 graduates in the Class of 2019 earned an impressive $9 million in scholarship offers. The collective success of the Mooney community is represented by our 100 percent graduation rate and 98 percent of graduates attending college while the other 2 percent pursue the military or workforce.
In addition to college readiness, students are taught to embrace the school's motto – "Serving God in the Community." On any given Saturday during the school year, many of our students who are members of The Miracle League Club can be found on the baseball diamond helping differently-abled individuals hit the ball, run the bases, and have a sense of belonging. Under the direction of English teacher and club advisor Betty Rogers, our students have partnered with the Miracle League Manasota. The club's mission is to instill in all students the respect and dignity for all individuals and to help create an environment in which all people will be treated equally. There are Miracle Leagues throughout the United States, but Cardinal Mooney has the only high school club affiliated with the league.
According to Beaver Shriver, Miracle League Manasota Board Member, "Miracle League Manasota is blessed and honored to have such a selfless group of caring young adults give their time and hearts to our remarkable differently-abled athletes. We couldn't do what we do without the Cardinal Mooney High School Miracle League Club."  Not only do these students serve as models of our faith through their service, but they also belong to a student body that completes more than 20,000 service hours each year.
Whether students are studying in the classroom, playing on the field, singing on stage, or praying in the chapel, a sense of belonging is the common theme for the Mooney community which extends well after graduation.  We are Mooney and want you to be a part of us too.
For more information about Cardinal Mooney Catholic High School, please visit www.cmhs-sarasota.org.