An installation of a new Pastor is a punctuation mark in the life of a Parish, a moment defined by its lasting impact on the People of God.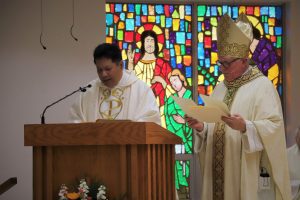 In the context of the Mass on Nov. 21, 2021, the Solemnity of Our Lord, Christ, King of the Universe, Bishop Frank J. Dewane installed Father Ronnie Sison as Pastor of Our Lady of Grace Parish in Avon Park.
When Bishop Dewane noted that a Pastor can make a lasting mark on a Parish, the faithful responded with applause when it was suggested that the time in Avon Park could be marked with an exclamation point. "I now know how you feel about your new Pastor, Father Ronnie."
As well as his installation was received by the faithful at Our Lady of Grace, Bishop Dewane encouraged the faithful to continue to offer advice to their Pastor, but they must accept that he may sometimes make decisions that are not popular.
"As he helps you to become more centered on Christ, be connected to your new Pastor, and be willing to support him and uplift him in his sacred work," the Bishop concluded.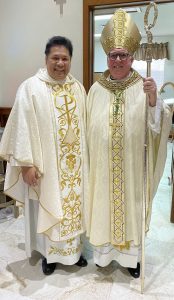 Father Sison has been serving as Administrator of Incarnation Parish since Oct. 1, 2019, and Bishop Dewane said it was an appropriate time to install him as Pastor. During his time at Our Lady of Grace, Father Sison has overseen the replacement of the roof to the Parish church and hall. Work was completed in October on the renovation of the interior of the church with new flooring and altar space.
During the installation, the priest begins with selected words leading to the start of the Creed at which point he is joined by the faithful. At the end of the Creed, the new Pastor has extra lines which are exclusive for him. In addition, the Pastor takes an Oath of Fidelity to the Bishop and his successors; formalized by his placing his hand upon the Book of Gospels.
Following the installation, two members of the Parish, representing the entire congregation, served as witnesses and signed the formal documents, copies of which are left at the Parish, placed in the Diocesan archives and in the personnel file of Father Sison. Bishop then introduced the new Pastor to a rousing applause.
Father Sison was emotional when thanking Bishop Dewane for having the confidence and trust in him as the new Pastor. He also expressed his deepest gratitude for the joyous support the community has given him since his arrival in Avon Park.
After the installation, a reception was held in the Parish Hall.