Bishop helps distribute food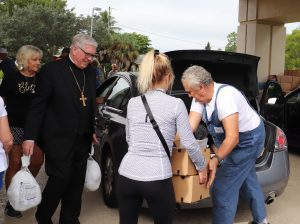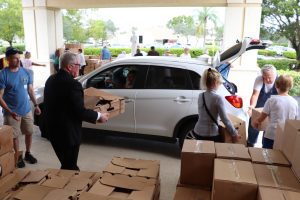 Bishop Frank J. Dewane assisted in loading turkeys into cars at St. Elizabeth Seton Parish in Naples on Nov. 22, 2021. The drive-thru Thanksgiving food distribution was coordinated by St. Matthews House with more than 700 families being feed and donations coming from across the region including nearby Parishes and Catholic schools.
Christmas Day Televised Mass for the Homebound
The televised Christmas Day Mass for the Homebound with Celebrant Bishop Frank J. Dewane will air for a full hour on Christmas Day. For viewers in the northern portions of the Diocese (DeSoto, Hardee, Highlands, Manatee, and Sarasota counties), the Mass will air at 9:30 a.m. on the CW Network. In the southern portions of the Diocese (Charlotte, Collier, Glades, Hendry, Lee counties), the Mass will air at 6 a.m. on WFTX-TV (FOX-4). Please check your cable provider for channel listings. The Mass will also be available on the Diocesan website at dioceseofvenice.org/televisedmass. Leaflet missals are available upon request by calling Gail Ardy at 941-486-4714 or by writing: TV Mass, Diocese of Venice, 1000 Pinebrook Road, Venice, FL 34285. For more information email ardy@dioceseofvenice.org. Also, please check the Dec. 17 e-Edition of the Florida Catholic for a complete listing of Diocese of Venice Christmas Mass times. The times will also be posted on the Diocesan website by Dec. 13, 2021.
Essay about priest earns state recognition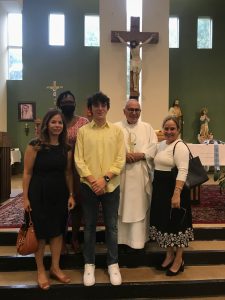 A Sarasota student was recently recognized for his writing skills in the First Lady Casey DeSantis' Hispanic Heritage Month Essay Contest. Giacomo Mutti, a Booker High School senior, wrote his essay about Father Celestino Gutiérrez, Pastor of St. Jude Parish, who supports the Sarasota County community through his volunteerism. Giacomo was recognized by Gov. Ron DeSantis during a ceremony held on Nov. 12, 2021. The theme for the 500-word essay was limited to "celebrating Hispanic-American Community Leaders and Champions." A ceremony honoring Giacomo was held Nov. 21, at St. Jude Parish where he was able to show off his prize and directly thank Father Gutiérrez for being an inspiration to him and others in the community. For winning the contest, Giacomo earned a four-year Florida College Plan scholarship provided by the Florida Prepaid College Foundation. Well done!
Students continue service project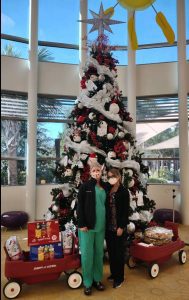 During November, fourth graders at St. Francis Xavier Catholic School in Fort Myers lead the school wide/year-long "Breath of Life – Help Our Heroes," service project. The students created colorful Thanksgiving canvas art for the Neonatal Intensive Care Unit (NICU) Respiratory Team at Golisano Children's Hospital. They also provided these dedicated caregivers with sandwiches, chips and beverages to enjoy when they take a well-deserved break!
Naples students learn science of parade balloons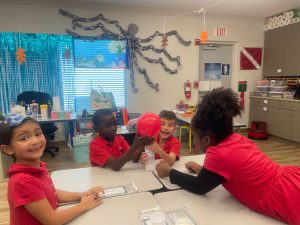 Second graders at St. Elizabeth Seton Catholic School in Naples leaned all about the Macy's Thanksgiving Day parade the week of Nov. 15-19, 2021. The students read "Balloons Over Broadway", completed literacy activities and conducted a science experiment showing how combining a liquid and solid created a chemical reaction causing the gas to inflate the balloons. The students designed and created their own balloons for our very own "Balloons Over Broadway" parade.
Thanksgiving Feast for parents and students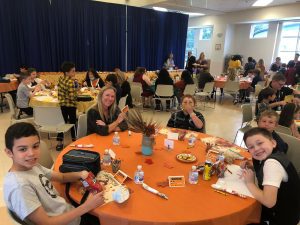 St. Mary Catholic Academy in Sarasota hosted its annual Thanksgiving Feast on Nov. 18, 2021. School board members, Home and School Association assisted in making this tradition a success for the students and their families.
School endowment campaign unveiled in Naples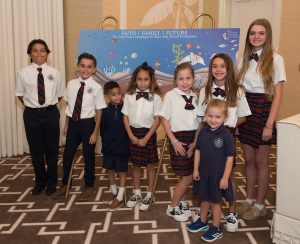 On Nov. 16, 2021, the Saint Ann School Foundation held a launch party to publicly announce their plans for a $10 Million Campaign to provide students scholarships for the students of Saint Ann Catholic School in Naples.
"We are grateful to all who joined us for a spectacular evening in celebration of our formal launch of the Faith Family Future Endowment Campaign for the Saint Ann School Foundation," said Pamela Marcia, Foundation Executive Director. "It was a beautiful and joyful evening for Catholic Education." The big news of the night was the thrilling reveal of the "Faith Family Future Endowment Campaign."
In six months, 16 generous donors have committed $7.7 Million of the $10 Million campaign goal. We are extremely grateful and humbled by the generosity of our faithful friends of the Foundation for their trust and belief in our mission. To learn more about the Saint Ann School Foundation, please visit www.foundationstann.org.