Each year the four Catholic high schools in the Diocese of Venice send into the world some of the best prepared students.
The Class of 2020, which includes Bishop Verot in Fort Myers, Cardinal Mooney in Sarasota, Donahue Academy in Ave Maria, and St. John Neumann in Naples, has graduates who are going forth having received an excellent education based on Gospel values.
Among the graduating class, 97 percent have plans to go to college earning a combined $46.5 million in scholarship offers, all while dedicating thousands of hours of service in the community.
Of course, the Class of 2020 will likely be best remembered because their final semester was upturned by the impacts of the COVID-19 Pandemic. An enforced quarantine and subsequent distance learning, as well as missing key events in their final months of school, did not dampen the excitement as they prepare for the next phase in their lives.
It should come as no surprise that at each school the students were nurtured in a supporting and spiritual environment to become life-long learners. The Pandemic did little to change that fact as some of the top graduates recently reflected upon their high school experiences and how well-prepared they are for college and beyond.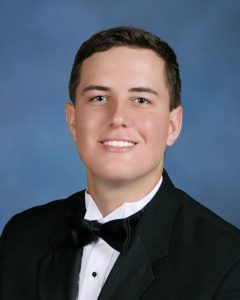 Alberto Macia, St. John Neumann Valedictorian, explained how the academics fully prepared him to be competitive for college applications and set him up to be successful. "However, it is so much more than academics," the Cornell University-bound student said. "The faculty really cares about each student. The atmosphere is fun and really like a family. Some of my classmates have been my friends since I was three years old. They are more than classmates, they are family."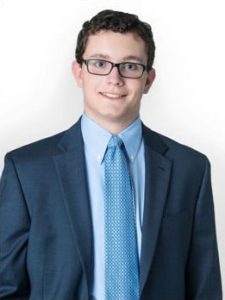 Summa Cum Laude Bishop Verot graduate Connor Shovlin, who is a National Merit Scholarship Finalist and will be attending Duke University in the fall, said he is very prepared for college. "Verot delivers a superior quality education and has a great community and environment in which to learn. I have been very impressed with the support that Verot provides to its students. All of the teachers are passionate about their subject and about teaching."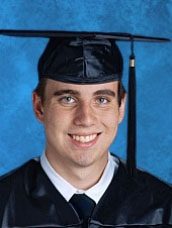 Donahue Catholic Academy Valedictorian Quinten Fairchild is heading to the University of Notre Dame and credits his school with providing each student the opportunity to do something great. "Catholic schools are able to speak about God in a way that public schools are not. Moreover, they are free to speak their minds, and that really manifests itself in great ways at Donahue."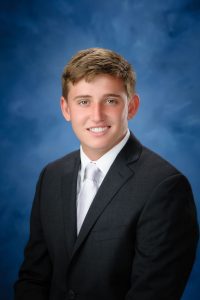 Graham Linehan, Cardinal Mooney Valedictorian, who is headed to the University of Florida Honors College, called his school a close-knit community. When asked what he would tell of prospective student, he said: "If you are looking for a specific personal experience, I would go for it… these schools are innovative and adaptive."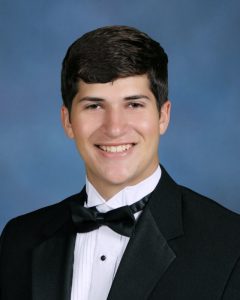 The 13 years of Catholic education (St. Ann Catholic School and Neumann) provided to Salutatorian Ryan O'Connor, "truly instilled values I am thankful to have in my life." The future University of Florida student continued: "By having a school deeply rooted in the Catholic Faith, I have been taught morals and principles that are hard to find in any other school community."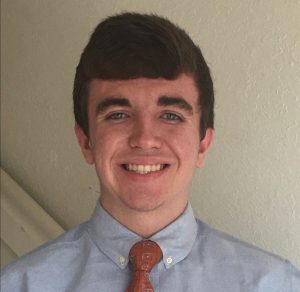 Bishop Verot Summa Cum Laude graduate Spencer Ebenger is attending Vanderbilt University in the fall and while in school founded a non-profit to help improve literacy in rural areas as well as in Jamaica. He explained that Verot is a community of people who are there for each other. "It's bigger than one person and has that extra personal touch. Everyone cares about each other. There is no censorship of other religions; there is an open dialogue. The culture is one big family. The people are there for you. They were there for me and (going) was easily the best decision of my young life."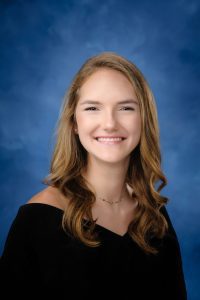 Anna Klemeyer, Cardinal Mooney Salutatorian, who recently reported to the U.S. Naval Academy, said she attended Mooney because her parents wanted her to go to a school with morality involved in the school culture. She also found the family atmosphere helped her succeed. "I will always cherish the relationships I built here, with not only my classmates, but the amazing faculty that help all students whether it be with math homework or supporting them in a time of need."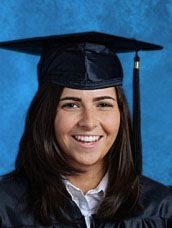 The most valuable lesson Abbey Lawe, Salutatorian at Donahue, gained from her education was to learn how to think, not just what to think. Continuing her education at Providence College, she said Donahue was "more than just a school, it really was a community of teachers and students who so wanted us to succeed… allowed us to feel known, supported and loved by our teachers and classmates."
These top graduates reflect well upon the entire Class of 2020 and serve as an example of the excellence found in the students of Bishop Verot, Cardinal Mooney, Donahue and St. John Neumann.
Below, please find more information on the top graduates from the Diocese of Venice Class of 2020.
Alberto Macia – St. John Neumann
Valedictorian
Cornell University
Mechanical engineering
Clubs/sports: National Honors Society, Peer Ministry, House Captain, Beta Club, baseball for four years and football for senior year.
Ryan O'Connor – St. John Neumann
Salutatorian
University of Florida
Biomechanical engineering
Clubs/sports: National Honors Society, Beta Club, four years of football.
Spencer Ebenger – Bishop Verot
Cumma Sum Laude
Vanderbilt University
Economics
Clubs/sports: National Honors Society, Model UN, Mock Trial, Spanish Club, Mu Alpha Theta Club, COSA (future health professionals).
Connor Shovlin – Bishop Verot
Summa Cum Laude
Duke University
Biomechanical engineering and computer science
Clubs/sports: National Honors Society, Math Honors Society, Spanish Honors Society, STEM Team, Academic Quiz Bowl, tutor, Verot Scholars Academy, National Merit Scholarship Finalist.
Quinten Fairchild – Donahue Academy
Valedictorian
University of Notre Dame
History and political science
Clubs/sports: National Honors Society, Student Life, Model UN (founding member), Shakespeare in Performance, four-years basketball, three-years cross country.
Abbey Lawe – Donahue Academy
Salutatorian
Providence College, R.I.
Finance
Clubs/sports: National Honors Society, Student Life, Model UN (founding member), Shakespeare in Performance, Yearbook Club, tutor, four-years-basketball.
Graham Linehan – Cardinal Mooney
Valedictorian
University of Florida Honors College
International studies
Clubs/sports: National Honors Society, Junior Class President, Academic Olympics, Spanish Club, co-founder of Italian Club, four-year tennis player.
Anna Klemeyer – Cardinal Mooney
Salutatorian
U.S. Naval Academy
Cyber Operations
Clubs/sports: National Honors Society, Academic Olympics, four-year volleyball player.