The students at Epiphany Cathedral Catholic School in Venice have an important homework assignment, one given by Bishop Frank J. Dewane during Mass on Nov. 20, 2020.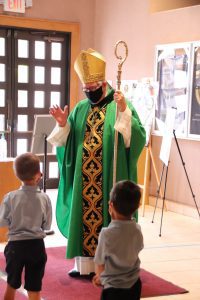 Bishop Dewane assigned the task of praying more. This, of course, includes the prayers said during Mass but to go beyond that. Prayer, the Bishop said, is a way to talk with the Lord, "Tell God what you are concerned about. Share your fears and worries. But also share what you are happy about and be sure to give thanks to the Lord so as to acknowledge the gifts you have been given by God."
The Bishop stressed the importance of prayer as a way to grow closer to the Lord, particularly now, during the time of a global Pandemic.
"We need to be praying that the pandemic will come to an end," Bishop Dewane added. "We need to pray for members of our family, our class, and our school that all will be kept safe from the Pandemic."
While prayer in Church is easy, the challenge comes when one leaves the "Temple of the Lord." This is why the Bishop explained that "with the presence of our souls and Jesus within us, we too are 'Temples of the Lord.' As we would give respect to the Lord to pray in His church, we also need to pray to the Lord out of respect for having created each one of us."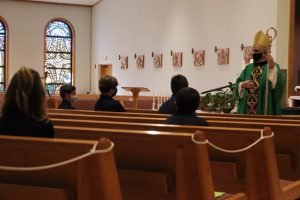 After the Mass, there was a ceremony to induct students into the National Junior Honors Society. After which the Bishop spoke to the eighth graders and answered their questions.