Students tour Parish Church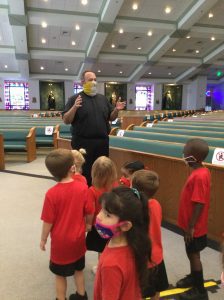 Pre-kindergarten 3 and 4 students at St. Elizabeth Seton Catholic School in Naples received a guided tour of the Parish Church on Nov. 17, 2020. Father Casey Jones explained to the children about the altar and narthex, sharing their purpose and symbolism as relates to the Catholic Faith and the celebration of the Mass., The students also learned about the stained-glass windows, each depicting a scene from the Bible, as well as the numerous statues of saints which are situated throughout the interior of the building.
Students Christmas tree to be featured in public museum display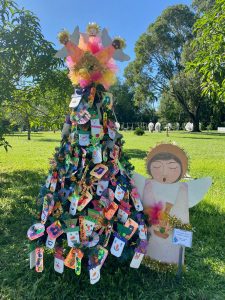 Budding artists from St. Francis Xavier Catholic School in Fort Myers helped to create a special Christmas tree which will be featured at The Children's Tree Trail at The Edison & Ford Winter Estates. Students in grades pre-kindergarten 3 through second grade, and fourth grade created decorations for the Christmas tree. The theme for this year is 'Music.' Ornaments made by the third and fifth grade artists will be featured on the school Advent tree. The Children's Tree Trail display is open from Nov. 27, 2020 to Jan. 3, 2021. There is an admission fee.
Sandwiches donated to Immokalee Soup Kitchen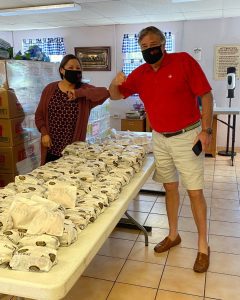 The Casa Maria Soup Kitchen of Catholic Charities in Immokalee received a donation of sandwiches and homemade chips from Three60 Market of Naples on Nov. 19, 2020. The meals were a bonus for the many families that use the soup kitchen each day for take-out soup.  This is the latest in a series of donated meals from Three60 Market going to needy families throughout the region impacted by the COVID-19 Pandemic.
Faith & Wine Lee County virtual event Dec. 3
The next Faith & Wine virtual event will be held 7-8:30 p.m., Dec. 3, 2020, for women of Faith. The presenter is Susan Potvin, and international speaker who will share her testimony and words of encouragement with a talk titled: "Never, Ever Give Up, Ladies! We Have Work To Do!" Registration is now open for this free Zoom event. For more information on registering and upcoming events visit www.faithandwineleecounty.com.
Bereavement Outreach
"There is Hope" Bereavement Outreach is a workshop focusing on surviving the holiday without your loved ones and the difficulties of isolation during the Pandemic. The workshop will take place at the following dates and locations: 3-4:30 p.m., Epiphany Cathedral, 310 Sarasota St., Venice; 4-5:30 p.m., Dec. 10, Our Lady of Light Parish, 19680 Cypress View Drive, Fort Myers; 3-4:30 p.m., Dec. 13, San Marco Parish, 851 San Marco Road, Marco Island. Deacon Henry deMena will share has bereavement counseling experience and helpful advice on surviving the holidays. He will also discuss issues which have arisen as a result of isolation due to COVID-19. The seminar is free and open to all. No registration is required. Masks must be worn. Seating will be socially distanced. For more information, contact Carrie Harkey at 239-484-9543 or harkey@dioceseofvenice.org.
Catholic School Open House Jan. 31
St. Ann Catholic School is hosting an Open House for perspective families from 11 a.m. to 2 p.m. Jan. 31, 2021. St. Ann Catholic School has been educating the faithful since 1956. RSVP is required to Tracy Farley at tfarley@stann.net. If you have additional questions, please call 239-262-4110 ext. 309.
Support after Abortion
Do you often think about an abortion you or a loved one had years ago? Sometimes it helps to have someone who can listen and help you process the experience. Call or text Sylvia at 941-412-5860 or email project.rachel@dioceseofvenice.org (English, Español or Deutsch). All contacts are confidential.