St. Agnes Parish in Naples hosted an annual Blue Mass on Jan. 28, 2023, to honor and remember the service of active, retired and fallen law enforcement officers, firefighters and first responders who offer their lives in service to the community to keep us all safe and well. A crowd of more than 800 were present.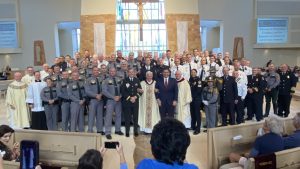 The opening procession was led by a bagpiper, the Knights of Columbus Color Corps, Columbiettes, Knights on Bikes (but not on their bikes) and Rolling Thunder Motorcycle Club, followed by the concelebrating priests.
Father Bob Kantor, Dean of the Southern Deanery, State Chaplain for the Knights of Columbus, welcomed everyone to the Parish. Father Kantor said the Mass serves to honor law enforcement, firefighters and all first responders, both active, retired and in remembrance of the deceased, particularly those who lost their lives in the line of duty.
In addition to many retired first responders from across the country, present at the Mass in and out of uniform were members of the Collier County Sheriff's Office, Collier County Fire Department, Naples Fire Department, Naples Police Department, Florida Highway Patrol, Florida Fish and Wildlife Commission, and Florida Department of Law Enforcement.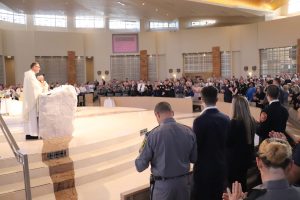 "We are here to recognize and pray for those of you here who have sacrificed so much in your challenging professions," Father Kantor added. "Your calling is not an easy one, but it is so vitally important in our society today and we deeply appreciate you and we wish to honor you for your selfless service. Our prayer today is that you be safeguarded from all harm and that God will lovingly bless you and your family who share in the sacrifices that you make to keep our community safe and well. May our prayers today give you comfort and strength."
In attendance for the Mass were Governor Ron DeSantis and his family, U.S. Rep. Byron Donalds (District 19), Kathleen Passidomo, President of the Florida Senate, as well as Collier County Commissioners, Naples City Council Members and more.
The guest homilist, Father Kevin G. Donovan, a priest of the Archdiocese of Hartford, who has been a Chaplain at multiple public safety agencies, including the Connecticut State Police, and is a retired volunteer firefighter for more than 30 years, reflected upon his own experiences as a first responder and Chaplain. He noted, from the telecommunication experts in the 911 dispatch center who takes the 911 call for help, all the way to the last person to leave an emergency scene; they each take a pledge to repeatedly and immediately respond to do what they are trained to do.
"We once again give our oath to the safety, security, and wellbeing of people, to the protection of lives and property of the people of whom we have been called to serve – it doesn't matter what kind of incident that call may be. It doesn't matter whether the incident is a nuisance call or a terrible fire, in all of our efforts – when we respond — we recall that pledge that we made on the day we took that oath."
Father Donovan concluded by calling on all people to reach out to first responders, known or unknown, and thank them and say that they are valued and treasured for choosing their life's work.
Father Michael Orsi, Parochial Vicar at St. Agnes Parish as well as a police and fire Chaplain in Collier County, helped to spearhead the organization of the annual Blue Mass several years ago into an annual event. Father Orsi said he is always humbled to be in the presence of so many who put their life on the line each day, committed to helping others.
After the Mass, each active and retired first responder present was asked to come forward to receive a token of appreciation. Law enforcement officials received a St. Michael the Archangel Medal, firefighters a St. Florian Medal, and a special medal was also presented for all other first responders.
A barbeque, hosted by the Knights of Columbus, followed in the Parish Hall. It was during the luncheon when Governor DeSantis spoke about how the state supports the role of first responders and what is being done to boost their ranks through a variety of ongoing efforts.