Mass, proclamations, service, and fun are just a few elements of Catholic Schools Week 2023 across the Diocese of Venice.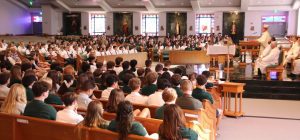 The week (Jan. 29 to Feb. 4) kicked off with Catholic school students speaking at weekend Masses. There, they spoke about the benefits of a Catholic education and the continuing need to support Diocesan schools to ensure the Church of tomorrow has leaders who are well formed. Many of the 15 Diocesan Catholic schools held open houses for prospective students and their families on Jan. 29, kicking off the annual enrollment period.
Bishop Frank J. Dewane celebrated a Mass for Catholic school students in Collier County at St. Elizabeth Seton Parish in Naples on Jan. 31. The Mass, which included several concelebrating priests from Parishes throughout Collier County, involved the eighth graders from St. Elizabeth Seton and St. Ann Catholic schools in Naples, Donahue Academy of Ave Maria Catholic School in Ave Maria, and affiliated Royal Palm Academy in Naples. In addition, the entire student body of St. John Neumann Catholic High School in Naples participated, having walked from their nearby campus to the Mass, and afterward escorted the younger students back for a day of food and fun.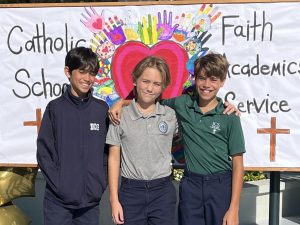 The Mass fell on the Memorial of St. John Bosco, priest, founder of a religious order and supporter of youth and Catholic education. The students at St. John Neumann are very familiar with St. John Bosco, as the school is led by religious women who are Salesian Sisters of St. John Bosco.
One of the readings was from the Gospel of Mark, when Jesus is asked what is the greatest Commandment? "You shall love the Lord, your God, with all your heart, with all your soul, and with all your mind… You shall love your neighbor as yourself."
Bishop Dewane said the reading was appropriate for Catholic Schools Week as it notes the keys of faith, excellence and service.
"Faith is about knowing who God is," Bishop Dewane said. "It's about loving God; obeying the Commandments God has given to us. Loving the neighbor is certainly about loving God and obeying God. From this we are called to serve others as we see the image and likeness of God in all. Each of you (students) are old enough to understand this and take on that responsibility. That begins at home, and the environment in Catholic school helps that idea grow within you. It is by following these two great Commandments that you can achieve excellence in your life by continuing to grow closer in your relationship with the Lord."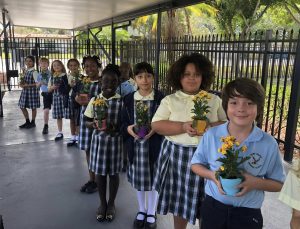 Epiphany Cathedral Catholic School in Venice opened Catholic Schools Week with a blessing of new benches for the playground by Father John Belmonte, SJ., Diocesan Superintendent of Catholic Education, and Msgr. Patrick Dubois. This was followed by the reading of a Proclamation about Catholic Schools Week by Venice Mayor Nick Pachota, an Epiphany graduate.
St. Joseph Catholic School students in Bradenton celebrated their neighbors on Jan. 31, by having second and fifth graders prepare "Thank You" cards, while third graders created special potted plants. The plants and cards were delivered to the 26 homes which border the school as a thank you to show gratitude for being a part of this neighborhood. Many of the neighbors commented that they love living by the school and hearing the sounds of joy each day.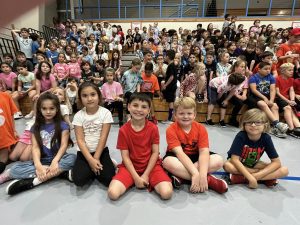 Bishop Verot Catholic High School in Fort Myers held their annual Quiz Bowl on Jan. 31. Five brave souls from both the student body and faculty, bravely put their trivia knowledge on display for the entire school. While the game went back and forth, the faculty ended up winning – much to the students' displeasure. A shot of redemption was given, in the form of a 1-on-1 match, which came down to the final question, and faculty trivia extraordinare, English teacher Clayton Atkins, sealed the deal again for the faculty.
St. Francis Xavier Catholic School in Fort Myers started their first day of the week with Mass. The day was also "Twin Day" and included a teacher swap for one class period. Finally, there was a school assembly which included a variety of fun games.
The above is just a small sample of the wide variety of activities the 15 Diocesan Catholic schools took part in throughout Catholic Schools Week.
Sponsored by the National Catholic Educational Association (NCEA), the week provides an annual opportunity to share the good news about Catholic Schools. The theme, "Catholic Schools: Faith. Excellence. Service." focuses on the important spiritual, academic, and societal contributions provided by a Catholic education firmly rooted in the Truth of the Gospel.
Diocesan Schools have a unique kindergarten through 12 STREAM (science, technology, religion, engineering, arts and mathematics) curriculum using robotics as a catalyst for success. This program, an initiative started and supported by Bishop Dewane, prepares students for today and the future, providing a core set of essential skills needed for success and leadership in the challenging world.
The 15 Diocesan Catholic Schools, serving 5,837 students, is an investment in the future and they serve as the heart of the Diocese, building the Catholic leadership of tomorrow. Schools are in Bradenton, Sarasota, Venice, Port Charlotte, Fort Myers, Cape Coral, Naples, Ave Maria and Sebring.
To learn more about Diocese of Venice Catholic Schools, please visit https://dioceseofvenice.org/catholicschools.